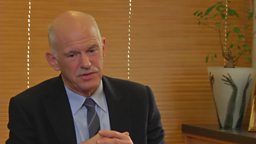 The ex Greek PM George Papandreou talks to Newsnight days after Syriza's election victory
Newsnight
Comprehensive coverage of the day's important national and international news stories
Twins who were imprisoned at Auschwitz and used for medical experiments talk to Newsnight

Chris Morris reports from Athens on the first days of the new Greek government

Could "Podemos" turn out to be Spain's answer to Syriza?

We give possible election results to political commentators and ask what happens next

Evan Davis grills George Osborne on his economic plans

Prof Hans Rosling uses snowballs to show how inequality around the world is changing

Watch kids from Gaza on their first journey abroad - to compete in Arabs Got Talent

Are George Osborne's claims that the UK could be richer than the US by 2030 realistic?

Life on the US supercarrier at the heart of ISIS operation

The Royal Society president says they must be more honest when disregarding findings

Newsnight's Gabriel Gatehouse reports from Dresden in Germany on Tuesday's Pegida rally.

Philippe Val says Charlie Hebdo's work was "perfectly normal in a democracy".
Newsnight tweets
Tweets from the official BBC Newsnight account.
Content from Twitter. Learn more about content from Twitter.