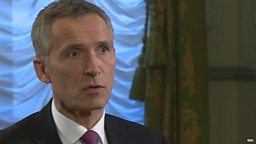 Mark Urban asks Jens Stoltenberg how he will deal with defence spending cuts.
Newsnight
Comprehensive coverage of the day's important national and international news stories
Tim Samuels on the latest chapter in the UK businessman's case

Gabriel Gatehouse reports from Monrovia on the devastating impact of the disease

Newsnight has an exclusive tour of the great gallery hidden in the eaves

Kamran Hoque went to Syria telling his family he was driving ambulances
Newsnight tweets
Tweets from the official BBC Newsnight account.
Content from Twitter. Learn more about content from Twitter.