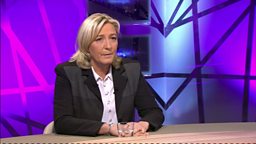 Marine Le Pen says ideas UKIP defends are "very similar" to those of her party
Newsnight
Comprehensive coverage of the day's important national and international news stories
Nobel prize-winning Colombian author Gabriel Garcia Marquez has died in Mexico aged 87

Religious leaders are working together to try to end the bloodshed.Tim Whewell reports.

Nicky Jacobs tells Newsnight "I didn't kill PC Blakelock"
Newsnight tweets
Tweets from the official BBC Newsnight account.
Content from Twitter. Learn more about content from Twitter.