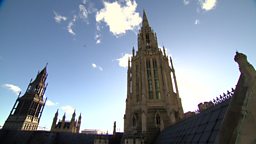 Laura Kuenssberg visits some of Parliament's hidden gems, but finds all is not well...
Newsnight
Comprehensive coverage of the day's important national and international news stories
An exclusive look at rehearsals for John Adams' new opera, ahead of world premiere

Laura Kuenssberg looks at the potential consequences of growing SNP support

Laura Kuenssberg looks at a lesson to be learned from the Scottish referendum
Newsnight tweets
Tweets from the official BBC Newsnight account.
Content from Twitter. Learn more about content from Twitter.