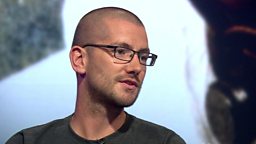 William Pooley urges PM to take global leadership on the issue
Newsnight
Comprehensive coverage of the day's important national and international news stories
Duncan Weldon reports on the currency options for Scotland if it votes for independence

Chris Cook on numbers that show continuing link between child poverty and GCSE results

If Scotland becomes independent what would country made up of UK's remnants be called?
Newsnight tweets
Tweets from the official BBC Newsnight account.
Content from Twitter. Learn more about content from Twitter.