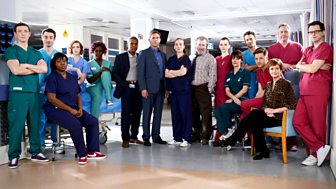 Holby City
Drama series about life on the wards of Holby City Hospital, following the highs and lows of the staff and patients.
On TV
Next Tuesday 20:00
BBC One except Scotland, Scotland HD
All upcoming (2 new and 1 repeat)
Rob Ostlere and David Ames share their on set stories and show you around Keller Ward.
Double trouble: Hari Dhillon and Debbie Chazen set to scrub in at Holby City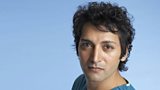 A familiar face and a new recruit are set to bring mischief and mayhem to the wards of the Holby City hospital this Autumn.
Hari Dhillon returns, for six episodes, to the role of charismatic and witty consultant general surgeon, Michael Spence and he's accompanied by Debbie Chazen, who will play outspoken, politically incorrect consultant Fleur Fanshawe.
Viewers last saw Michael leave for America six months ago after his penchant for rule breaking led to a showdown with new CEO Guy Self. Whilst Michael might have learned his lesson when it comes to work, it seems the maverick doctor hasn't been able to curb his wandering eye, as it's quickly revealed that whilst away he's been embroiled in a high profile stateside-scandal involving a senator's wife.
"Michael's return may be short but it's very eventful!" Hari told us. "He's back to tie up a few loose ends and also shake up the wards - and certain Holby staff - in a way only he knows how. I'm really excited about this storyline and it's great to be back working with the Holby team."
Michael's partner in crime, Fleur Fanshawe, played by Debbie Chazen, is a force of nature, who's destined to terrorise those on Keller ward especially poor Sacha Levy. Debbie, who is best known for roles in Doctor Who and The Smoking Room, will be in the show for three months.
"I am thrilled to be joining Holby as the outrageous Fleur - she's going to be a lot of fun to play!" said Debbie. "I can't wait to stir things up on Keller Ward and am looking forward to being able to tell my family that I'm a Doctor at last! A while ago, I appeared in one episode as a character called Colette Barnes who was romantically obsessed with Dr Levy and made a huge nuisance of herself.  It seems this time I shall be creating havoc of a very different kind…"
Oliver Kent, Executive Producer of Holby City added: "It's a short but explosive return for Michael to the Holby wards but his reappearance combined with the arrival of fiery Fleur will mean Holby staff won't know what hit them! This will be a guaranteed treat for the audience."
Information and support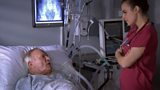 If you've been affected by issues raised in Holby City, please go to the information and support page.
If you want further information about the Holocaust, as featured in a recent episode, please see our online guide.
"Amy gets to order the boys about!"
Alex Walkinshaw discharges himself from Casualty but gets admitted to Holby City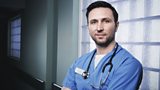 Alex Walkinshaw has announced that he will be leaving Casualty to join the cast of popular sister drama Holby City.

In a rare cross-over between the medical dramas, viewers will see Alex's cheeky chappy character, nurse Adrian 'Fletch' Fletcher, swap the emergency department (ED) for the wards of Holby City.

Like Holby City?