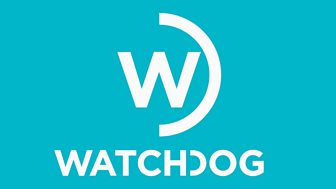 Watchdog
Topical reports and investigations into the big names and smaller rogues letting viewers down.
On iPlayer
This programme is not currently available on BBC iPlayer
On TV
There are no upcoming broadcasts of this programme
Last on
Thu 3 Dec 2015 20:00
BBC One
Investigative reports and articles on a range of consumer issues from mortgages to pets.

Looking to get a second hand motor? Here's the right way to buy your next vehicle
Pandora Official Online Retailers
Attention Eurostar customers
Eurostar says: We have a very strong connection to Paris, and our thoughts and sympathies are with all of those who have been affected by the very tragic events that took place last week. 
We understand that some passengers who were due to travel to Paris may prefer to postpone their trip. We have revised our exchange policy and we are offering all customers who were booked to travel to Paris between Saturday 14th November and Sunday 22nd November inclusive the option to exchange their tickets free of charge.  
We are aware that some customers who should have been offered a free exchange, have been charged to change their tickets. We want to reassure these customers that the fee they were charged and any fare difference paid will be refunded by us. 
Customers have up to 60 days from the date of travel to contact us about their free exchange, and so there is still plenty of time for passengers due to travel to Paris between Saturday 14th and today to contact us and change their travel dates.    
Eurostar customers who were booked to travel to Disneyland Paris during the time that the park was closed (Saturday 14th November – Tuesday 17th November) are able to exchange their Eurostar tickets free of charge or request a full refund. We do ask that they provide proof of booking for the Disneyland Park, and that they return to their original point of sale when claiming their exchange or refund. 
We're very sorry for any confusion we have caused for our customers, and we are committed to resolving all outstanding exchanges as quickly as possible.
Vauxhall Zafira
If you are concerned about your Vauxhall Zafira you can click
here
to visit Vauxhall's website or you can call Vauxhall customer service on
0800 026 0034
. Lines open tonight from 9pm 22/10/15
Hoverboards
Before you buy: National Trading Standards advises you to check the plug before handing over any money. If you are buying online, they say that to make sure you can verify the seller. Find out if they have a published address and ask if there is a way to contact them offline once you have bought the product.
Already purchased?
If you bought an item that was unsafe and caused damage the law says you have a right to claim a remedy - such as a repair or replacement - from the trader who sold you unsafe goods.
If the unsafe or faulty item was bought after October 1st this year then you can get a full refund for up to 30 days after buying, and if it cannot be repaired or replaced you should get a full refund for up to six months after buying it.
Check your plug:
If you are concerned about the plug attached to your board then you can order a plug pin gauge. The gauges will be available from the end of the month on Electrical Safety First's Website click here
You can also contact the charity enquires@electricalsafetyfirst.org.uk