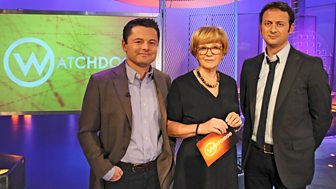 Watchdog
Topical reports and investigations into the big names and smaller rogues letting viewers down.
On TV
There are no upcoming broadcasts of this programme
Last on
Thu 4 Dec 2014 20:00
BBC One
Investigative reports and articles on a range of consumer issues from mortgages to pets.

Fiat said complainants weren't driving properly up hills, so we brought in an expert.
The BBC want to know how you spend your money
We want to speak to all kinds of people from across the spending spectrum to find out where your money goes…
Do you have to be careful with your money?
Do you want to see how the other half spend?
Do you want more for your family but everything's going up in price?
Or is money no obstacle to happiness?
Do you want to tell us what would improve your situation?
If you've got strong views about the rights and wrongs of spending then we'd love to hear from you!