Strictly Come Dancing
Celebrities take to the Strictly dance floor to perform a dazzling display of ballroom and latin routines.
We drop in on Tess and Claudia's official Strictly photoshoot to get the latest

It Takes Two will soon be back with an hour-long Friday special and new expert guests.

Test how well you remember Strictly 2014 by doing our full series quiz!
Follow Strictly on Social Media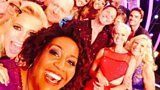 Join Strictly Come Dancing on our social media platforms to guarantee you get all the selfies and sequins first!


The People's Strictly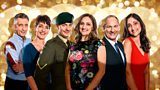 Six inspirational but everyday people take part in The People's Strictly for Comic Relief.