Rogue Traders: 1st Call Environmental Services Ltd
1st Call Environmental Services Ltd of Derbyshire, trading as 1st Call Services - not to be confused with companies of a similar name - is a company that Rogue Traders first came across in 2005. Back then, the company was mainly doing drains work. But it seems that in the past seven years, they've had a career switch, as these days they are mostly in the pest control business.
Published on 29 March 2012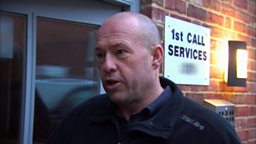 Paula Wheatley from Yorkshire had mice in her loft, so she contacted 1st Call Services who quoted a £29 plus VAT basic treatment charge, with the possibility of it being more if further work was required. Paula explains that their rep arrived and was in her house for half an hour; he looked around both the loft and Paula's bedroom on the first floor and quoted her £432. He proceeded to do the treatment and wrote out the bill. When Paula asked if he would come back to check if the treatment was working, he quoted another £165 plus VAT to do it.
Michael Box had a wasp nest in his roof fascia treated. He told us he was originally quoted £30 plus VAT, but once the 1st Call rep arrived, they said told him he would need to put smoke in both the loft cavity and put smoke in to the powder under the tiles, which would cost £225 plus VAT. All for only 45 minutes work...
Former boss of the British Pest Control Association, Oliver Madge, explains: "It's important with pest control, or I suppose any business, that the pricing is clear from the outset. These customers seem to have experienced anything but. £270 for a wasp nest or £630 for a two treatment mouse job seems astronomical."
We set up a house, and this time it had something extra - a wasps' nest. We filmed during winter, when coming out to inspect a wasp nest isn't unreasonable, but certainly unusual. We called five pest control firms who all said they didn't need to come out. 1st Call Services, on the other hand, said they did. So they sent their man Adrian - he turned up three hours before he was supposed to, which created a bit of a panicked 'buzz' amongst our production team who were not expecting him so early.
We had been quoted £29 plus VAT for a site inspection and basic treatment, and Adrian wanted to see the nest up close, so headed to the loft. Oliver Madge confirmed: that there should be no need to charge any more than the £29: "This really should be a case of confirming that the nest is dead and really not much else." Adrian, however, told our stooge that if she wants an absolute guarantee on the nest being dead, it will be £80 plus VAT. "Increasing the price to £80 seems an extortionate sum for a nest where there's just no need for any control," explains Oliver.
Adrian promised only a 60-70% guarantee on the wasps nest if we paid the £29 fee as he claimed there were "hibernating" young queen wasps. Oliver confirmed that it is true about hibernating queens but as Adrian is checking a nest in early winter, they would already have left the nest: "I can't understand why he wants to treat the nest, it just seems a way of charging more money."
After letting him talk us into the more expensive treatment, we let him get on with it. Expert Oliver Madge checked the nest after Adrian had gone, concluding that 1st Call Services' technician only treated about a third of the nest, which would have been ineffective had there been wasps - which of course there weren't. Furthermore, Adrian used two different types of chemical, neither would have been effective against hibernating wasps as they would have already left the nest. Oliver explained that this was "an expensive waste of time and also an illegal use of pesticides because there were no pests present."
One of the men behind 1st Call Services is David Dolphin; the other is Robert Sheridan. To ascertain if they know what is going on inside their company, we placed a mole within the company. Our Mole called up about possible vacancies. Before he knew it, he was talking to David Dolphin, who explained that they try to "maximise that job without ripping the customer off completely." He continues, "At the end of the day trying to charge as much as you can for every job."
It was time for Rogue to find out more. Our mole arrived at 1st Call Services HQ and he met David Dolphin himself, along with his business partner, Rob. Once again, David proceeded to talk about maximising sales He also told our mole his training would take place on the job by observing other pest controllers to see how it's done. David explained the company is not the cheapest, but is the best. He revealed that there is no set price: "The more you can charge that's viable, the better for you and the better for us."
David even offered up some words of caution: "If you're going to rip somebody off, just imagine Rogue Traders or a programme videoing you." He also added "If there is nothing you can do, just charge them the £29 or £39 inspection charge and move on."
Our Mole was paired up with a 1st Call employee called Mick who showed our mole the ropes. At the first job he quoted a customer £240 plus VAT for rat treatment; Mick tells our Mole that they don't actually need that level of treatment, confessing "You could probably get away with a basic treatment, but at the end of the day you're trying to make a living out of it. It does seem as if you're ripping them off sometimes."
David Dolphin offered up some more advice at company HQ. While customers are told that his staff will charge them £29 plus VAT for a site inspection and basic treatment, David reveals: "£120 would be fantastic. So every time you go on a job, £120."
We went out with one of the firm's top salesmen, Graham. He explained that he "exaggerates" the pest situation in order to charge more than the basic £29. Indeed, he visited a customer who thought she only had one rat, but Graham tried to persuade her otherwise by telling her that she had between 8 and 16 in a colony. While rats can live in any number, it is highly unlikely that there are that many rats under the shed, as the lady had only seen one.
Graham explained that it is £29 per bait station, of which the customer will need between 3-4 stations "to wipe them all out". Oliver Madge explains that if there were that many rats, then three or four bait stations wouldn't kill them all. Despite the pressure selling, the customer declined Graham's offer and opts instead for the £29 basic treatment.
During the day with Graham, he gave us an insight into how he prices charges for different customers, whether they are Asian (where he uses racist slurs), apparently wealthy or elderly. He told one lady her house had fleas without even testing for them; and while checking for bees in a chimney, he threw honeycomb - covered with a dangerous pesticide - into the garden next door.
We contacted the company with our allegations about misleading and overcharging customers, as well as casual racism and a callous attitude to the elderly by certain staff. But we also wanted to talk to the boss in person. We went to 1st Call's offices at 5.30am one morning and managed to confront David Dolphin's business partner, Rob Sheridan. He refuted the allegations that Matt Allwright put to him, and insisted on opening up, so Matt decided to wait for David Dolphin - who duly arrived.
David explained to Matt that his company had issued the BBC with a two page written statement, addressing the issues the programme had raised. He stated that the company:
was committed to equal opportunities and does not tolerate discrimination of any kind;
had always complied with any recommendations made by trading standards;
is always striving for improvement, and in light of the matters raised in the letter from Rogue Traders, would be implementing further safeguards to ensure that all of our customers receive a first class service;
that certain comments by members of the company may have been taken out of context and some issues distorted
Matt highlighted that this did not address the fact that the company did not have a pricing structure that people could understand, which David refuted.
The company also says employees are trained to the highest levels, and assess each job individually, on site.
And they say 36.29% of call outs - from the start of the year to the 15th of February - were charged at £29 plus VAT or less.
After an internal investigation they've dismissed Graham and taken appropriate steps with other staff members.
Graham meanwhile has denied exaggerating jobs and says he does his own job to the best of his ability. He says he's not a racist or ageist.... and that everyone is equal in the world.