Good Night's Sleep Appeal
Make a difference to a North Yorkshire family by helping them get a good night's sleep.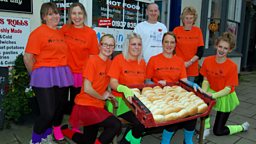 The BBC Radio York Good Night's Sleep Appeal is raising funds to provide care for families who are struggling to look after children with life-limiting illnesses in North Yorkshire.
We've teamed-up with Martin House Children's Hospice which provides planned stays and support for the whole family when a child has a condition resulting in a shortened life.
Martin House is working with over 40 families in North Yorkshire and we're raising money to fund five nights' accommodation for each of them.
We're into the final weeks of the appeal – and have raised over £170,000. We have until the end of September to raise as much as possible.
Join us and help the Good Night's Sleep Appeal so we can make a difference to North Yorkshire families.
You can donate now, or raise money by holding a fund-raising event.
Are you hosting a fund-raising event?
Tell us in advance of an event so that we can publicise it; send us photographs and tell us how much you raised.
Email: matt.foster@bbc.co.uk
Call: 01904 610606 and leave us a message with details (standard rates apply)
You can also get in touch via our Facebook and Twitter pages using hash tag #gnsleep.
How to donate
By web:
Make an online donation.
By phone:
01937 846588 (normal network rates apply)
By post:
Martin House Good Night's Sleep Appeal, Grove Road, Clifford, West Yorkshire, LS23 6TX.