15 questions for Pippa Evans
Musical comedian Pippa Evans is familiar to Radio 4 listeners from her many her appearances on The Now Show. She's also a member of the Olivier Award-winning improvisational troupe, Showstoppers, and is a co-founder of the popular non-religious Sunday Assembly gatherings. She returns to Radio 4 with her own Stand Up Special, Pippa Evans Grows Up.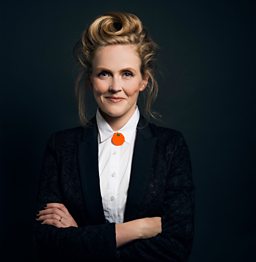 Describe your show in ten words.
Musical jokes on the madness of being a grown up.
What moment in your career are you proudest of?
I mean, is it arrogant to mention the Olivier??? We won one with The Showstoppers - the first improv show to win one. #totesproud
What was the worst show you ever had?
I once had to sing a song to my daughter in a musical about getting an abortion. It was pretty bleak. Or there was a show I did at the Edinburgh Festival where a lady said to me just before it began: "We'll have to sit near the door in case we don't like it."
Do you get recognised in the street?
Not often, but when I do they don't know why they recognise me. I imagine they have mistaken me for Claudia Schiffer. Again...
When did you first hear Radio 4?
As a kid, waiting for dinner. Not being allowed to talk during The Archers. I always wanted to listen to Capital Gold.
What or who makes you laugh more than anything else?
The Golden Girls and drunk people in Costcutter trying to be not-drunk.
If you could only see one comedian (living or dead) perform ever again, who would it be?
It can never be ONE! You can't have ONE comedian you love. It would be a variety show, hosted by Brian Conley, with the Chuckle Brothers, Dawn French, RuPaul, Whoopi Goldberg and Marie Lloyd. Ken Dodd could pop down to do a quick 10 (thousand) minutes.
Are you the funniest member of your family?
No. It is my brother Sam, who is a rail engineer. Maybe that's why the trains keep CRACKING UP... Hello? Is this thing on?
What's your worst habit?
Picking my feet and eating it.
What was your first job?
Working in a café in Ealing Broadway. I had to wear a stinky t-shirt that I couldn't take home to wash because they thought I would steal it. It was where I learnt that microwaving a croissant can be fatal.
What unexpected skill do you have?
Having been a pretty committed Christian till I was 17, I can sing a lot of 1990s hymns to order. Here we go: "Over the mountains and the sea, your river runs with love for me…"
If you weren't a comedian, what job would you do?
I would go back to taking old people on holiday, which was my last job before I did full time comedy. I am really good at Bingo and singing on coaches.
When did you first realise you wanted to be a comedian?
When I was eight and saw Victoria Wood on the telly and thought: "We have the same haircut! I can be like her."
Sitcom or stand up?
A musical improv stand up sitcom.
Can you tell us a joke?
What do you call a sexy wireless station? Radio Phwoar!