About the BBC Three Comedy Feeds
BBC Three is proud to introduce its next installation of Comedy Feeds. The Comedy Feeds showcase emerging new talent by making their pilot shows available exclusively on BBC iPlayer.
Controller of BBC Three, Zai Bennett says "New British comedy is king on BBC Three. To ensure we keep finding the hits of the future we are showcasing our latest batch of eight Comedy Feed pilots on BBC iPlayer."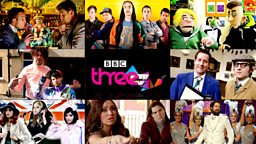 The Comedy Feeds got off to a roaring start in 2012 with the first set of pilots having already introduced some exceptional new talent to the UK comedy scene. Impractical Jokers went straight to series and four 30-minute episodes of People Just Do Nothing have also recently been commissioned. In addition, Nick Helm, the star of one of the 2013 pilots, has just had his first TV series 'Uncle' commissioned by BBC Three.
Shane Allen, Controller, Comedy Commissioning, says: "This wide range of shows and new talents cement BBC Three's place as the key channel for emerging comedy stars. The Comedy Feeds show serious commitment to finding the next best voices and faces of British comedy."
Comedy Feeds for 2013
Bamboo - two posh idiots try and set up their own nightclub. Starring Totally Tom. Written by Harry and Jack Williams. Produced by Roughcut.
The Cariad Show - a multi-character sketch show from comedian, writer and improviser Cariad Lloyd. From BBC In-House comedy. 
C-Bomb - C-Bomb is the godfather of the South Yorkshire dubstep scene. Since "Rektal Dysfunction" he's been living on former glories. All that is set to change. Starring You Tube's Rob Madin and written by Rob, Jason Cook and Daniel Peake. From BBC In-House comedy.
The Committee Meeting – starring Welsh comics Elis James and Chris Corcoran. We enter the committee meeting of a Welsh social club. Produced by Tiger Aspect.
Fuzzbox - a puppet show featuring the voices of real young people. Produced by My Pockets.
Going Native - mock documentary staring Mona Yousefi who plays three different foreign women - a Russian gold digger, a Japanese internet sensation and a Middle Eastern entrepreneur - who have recently moved to the UK to start a new life. Produced by Hat Trick. 
Kerry - multi-character sketch show written by and starring Kerry Howard. Produced by Objective.
Nick Helm's Heavy Entertainment - raucous, studio based comedy show from the star of BBC Three's Live At The Electric, Nick Helm. From BBC In-House comedy.
Mockumentary following three foreign women attempting to start their new lives in the UK.

Nick Helm presents a helter-skelter ride of songs, sketches, fireworks, stunts, and dance.

Comedy Feeds are part of a BBC Comedy and BBC Academy initiative to develop the next generation of comedy talent, both on and off screen.