The Fourth Dimension
The Two Doctors
THE SECOND COMING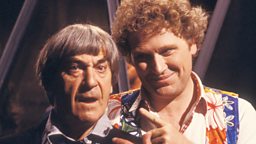 The Two Doctors marked the return of Patrick Troughton as the Second Doctor alongside Frazer Hines as Jamie, the companion who had appeared in all but one of the adventures from his era. The actors had previously been reunited in The Five Doctors (1983) although in that story Hines had played a 'phantom' version of the Time Lord's old friend.
GREYN AGAIN AND RINGO'S RETURN…
Troughton and Hines weren't the only actors who had featured in Doctor Who previously… Clinton Greyn, appearing as Group Marshall Stike in this outing, had played Ivo in State of Decay (1980) and Laurence Payne - Dastari in The Two Doctors - was Morix in The Leisure Hive (1980) and the slick Johnny Ringo in the First Doctor adventure, The Gunfighters (1966).
PEARCE IN PLACE
Jacqueline Pearce - famous for her velvety portrayal of Servalan in Blake's 7 - played Chessene, replacing actress Elisabeth Spriggs who was cast but dropped out shortly before production began. Spriggs would later appear in 1987's Paradise Towers.
DASTARI'S SECRET?
The name 'Dastari' was an in-joke and is an anagram of 'a TARDIS'.
BIG BUT NOT SO EASY
The original plan for this story was to film in New Orleans but that proved too expensive so after a few other potential locations were discussed, the production team settled on Spain – in and around Seville. Robert Holmes rewrote his script accordingly but it's interesting to note he created the Androgums specifically for the New Orleans setting as the American city was famous for its gastronomic delights.
BIG WIG CRISIS RAISES EYEBROWS
The Spanish trip was seemingly cursed - a number of wigs and fake eyebrows disappeared en route and apparently ended up in Germany, meaning the first few days of shooting had to be rearranged while replacements were made in Seville. The special effects team, unable to transport pyrotechnics on a plane, tried to source materials locally and when that proved impossible, gunpowder and vats of petrol were used instead for the explosion at the hacienda.
BACK TO BLACK (AND WHITE)
The opening moments of the first episode, featuring the Second Doctor and Jamie in the console room, are presented black and white – a visual nod to 'original' stories featuring these two time-travellers.
ACID PAIN
In the Sontarans' debut adventure – The Time Warrior – we learnt that they have a weak point in the form of their probic vents, located at the back of their necks. In The Two Doctors we discover another potentially fatal weakness: Sontarans can be killed by Coronic acid – an Achilles heel exploited by Chessene to murderous effect.
DVD
The Two Doctors was released on DVD in 2003 featuring a commentary and with accompanying featurettes looking at the background and making of this memorable three-parter.