'Enigma' Variations – Theme (Enigma), variations 11, 6 & 7 by Edward Elgar
Elgar's variations show how music can convey personality, an event, a memory or a moment in time - but also how the same piece of music can be changed slightly and then take on a different character completely.
After creating a theme based on his own personality (Enigma), Elgar wrote short musical variations that reflected the people around him. One captured the quirks of a friend (6 - Ysobel), one represented the memory of another friend being caught in a thunderstorm (7 - Troyte), and one was the result of a friend's challenge to make music from the sound of his barking bulldog falling into a lake (11 - G.R.S.)!
Events from our lives, the way we speak, the way we move, the things we like to do – Elgar showed that all of these can be conveyed in music.
Listen out for: How Elgar created the sounds of Dan the bulldog in variation 11. Dan can be heard falling down the bank into the River Wye in bar 1, paddling upstream in bars 2 and 3, and then rejoicing at landing back on the bank with a bark in the second half of bar 5!

Watch the introduction film at the top of the page then starting exploring the music:
Watch the full performance
About the composer
EDWARD ELGAR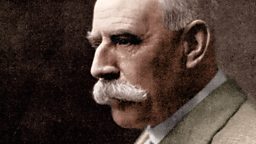 BORN: 1857 / DIED: 1934 / NATIONALITY: British
Elgar was a truly great British composer but it took him many years to find fame. We often think of him as the creator of the ultimate English sound. He wrote lush romantic music at a time when the rest of the musical world was in turmoil. We now know however that Elgar was in just as much personal turmoil as everybody else. He felt like he didn't quite fit in; he was from a humble family of amateur musicians, he was self-taught, he was even the 'wrong' religion and so for much of his early adult life he felt that his face just didn't fit the mould of 'great classical composer'. He tried everything; moving from the countryside to London, hanging out with orchestral players and conductors, entering competitions but no one seemed interested in his music and he often considered giving up completely. Then in 1899 encouraged by his wife Alice, he wrote a set of pieces based on a mysterious theme of his own and used each version to describe one of his friends. These Enigma Variations where an instant, huge success and within a couple of years he was made Master of the King's Music and was knighted. His wife had been right to stop him from quitting!