Grand ReDesigns
Steve celebrates album artwork and invites you to send in your Grand ReDesigns
Get Involved
Steve celebrates album artwork as we ask you to design your own album covers. Think of your favourite album, now imagine this album didn't have any artwork. Can you design your own artwork for this album?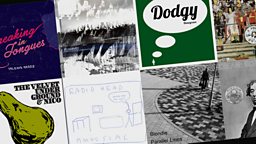 View the gallery of the designs so far
How to send us your Grand ReDesign
Here's how you can send us your creative masterpieces: 
Email - lamacq.6music@bbc.co.uk
Facebook - Grand ReDesigns on Facebook
*don't forget to read the full terms and conditions below before sending in your artwork*
Terms & Conditions
1. All entries must be the original work of the entrant and must not infringe the rights of any other party. The BBC accepts no responsibility if entrants ignore these Terms and Conditions and entrants agree to indemnify the BBC against any claim by any third party from any breach of these Terms and Conditions.
2. Entries must not contain defamatory, obscene, offensive, or any other unsuitable material. Entries must be suitable to be published or used online by the BBC for audiences of all ages. Please see the BBC's Editorial Guidelines for further information: BBC Editorial Guidelines.
3. Entrants retain the copyright in their entries but grant to the BBC a perpetual non-exclusive royalty-free licence to publish (across all media) and post the entry online and on any other platforms yet to be envisaged. This licence will be deemed to include all the necessary rights and permissions to enable such use by the BBC.
4. By submitting your artwork the entrant agrees that the BBC may at its sole discretion edit or adapt the entry for the purposes listed in clause 3 above.