Poverty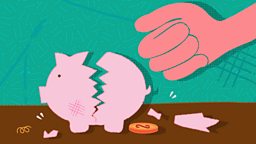 1 child dies every 3 seconds because of poverty. But what is it? And what are we doing to stop it?
Poverty is an issue everywhere, including around where you live
Enough for everyone?
There are 870 million undernourished people in the world today. Yet there's plenty of food in the world for everyone.
If you're trapped in severe poverty you can't buy enough food, so you become sick, less able to work and even poorer and hungrier. And so it goes on.
Other problems related to poverty include Aids, diarrhoea and malaria. You may think poverty only exists in far away countries, but poverty is an issue everywhere, including around where you live.
What can the richer countries do?
The cost of stopping the hunger and disease resulting from poverty is about $195 billion a year, according to the UN.
In 1970 the Millenium Development was established. This involved the world's richest countries pledging to give 0.7% of their gross national product to Official Development Assistance, to help raise the money needed.
The UK Government achieved this target in 2013.
There is hopefully going to be legislation passed through parliament to ensure that now we have reached our target we will continue to donate this amount.
What can we do?
You can donate money yourself, either by making a personal donation or doing a sponsored activity. Check out the following websites for some inspiration:
BBC Advice factfiles are here to help young people with a broad range of issues. They're based on advice from medical professionals, government bodies, charities and other relevant groups. Follow the links for more advice from these organisations.