What Happened Where on BBC Music Day 2018
TV, Radio and Online
BBC Music Day was featured across the nations on BBC Television, Radio and Online, with special programmes, performances and activities taking place throughout Friday 28 September and the surrounding days.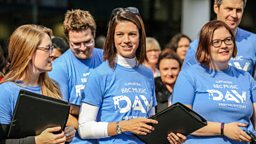 Choirs across the UK took part in Platform to Perform as part of BBC Music Day 2018. Watch performances by clicking on the Platform to Perform link.
The BBC Live page covered the activity, which provided coverage throughout Friday 28 September, as well as the #BBCMusicDay hashtag on social media.
BBC Music Day 2018 was centred around these key themes:
Choirs and singing groups from across the UK performed at railway stations at the heart of their local communities throughout the day. There were also a number of special guests from the world of music making unique appearances and performances at stations.
See Platform to Perform highlights HERE.
Women in Music
BBC Music Day celebrates women in music. Special features and performances took place across the UK to highlight and celebrate women working across all areas of the music industry.
Get Singing
BBC Music Day teamed up with Ex Cathedra's Singing Playgrounds, Young Voices, Sing Up and BBC Ten Pieces to inspire children to get singing in schools across the UK. Find out more on the Get Singing page.
Music and Wellbeing
An important part of BBC Music Day's on-going work is to explore the different ways in which music can change lives and improve health and wellbeing. This year saw the launch of BBC Music Memories, a website designed to help people with dementia. Find out more on the Music and Wellbeing page.
The BBC is not responsible for the content of external sites.
Find out what happened for BBC Music Day 2018 across the UK