How twenty one pilots wrote the Hottest Record of 2018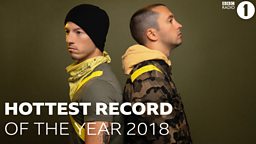 The votes have been counted, and Radio 1 listeners have chosen twenty one pilots' Jumpsuit to be Annie Mac's Hottest Record of 2018.
Tyler Joseph and Josh Dun topped a shortlist of 20 incredible records, all handpicked by Annie.
When revealing the song on Radio 1 back in July, Josh told Annie it was a "scary time", admitting: "We always have visions of there only being 15 fans left, or going to play a show and nobody being there."
Clearly Dun had nothing to fear. Here's the story of how the Columbus, Ohio duo penned 2018's Hottest Record of the Year.
Everything you need to know about Annie Mac's top 20 Hottest Records.
It started with a soundcheck
The distorted riff for Jumpsuit emerged when twenty one pilots were touring previous album Blurryface. Before gigs and during soundchecks, Tyler found himself playing the opening line. "Maybe that was one of the first ones we worked on," Josh told Annie back in July.
"It is a little heavier," Josh added, referring to the speaker-blowing brilliance of Jumpsuit's opening seconds.
It's about Tyler's relationship with fame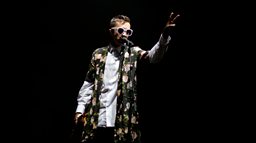 It doesn't take a genius to pick out the true message behind Jumpsuit, but it's a powerful one. "I can't believe how much I hate / Pressures of a new place roll my way / Jumpsuit, jumpsuit, cover me," Tyler sings in the opening chorus, referring to his place in the spotlight as a famous musician.
Twenty one pilots became a huge, chart-topping band with their fourth album Blurryface. A life in the public eye is a difficult thing to navigate, so Tyler seems to be addressing this head-on.
"There's certain things that you work through, as a human," he told Kerrang this year. "Obviously, there's things where it's like, 'Are we good enough to play music for a living? Are we good enough to write songs and show people what we're made of?' As things got bigger, there was some confidence instilled in us – like, 'You know what? Actually we can do this."
It references a fictional world called Dema
After taking a 12 month break from social media, twenty one pilots returned in April with a link to mysterious website – dmaorg.info. The site contained messages from a guy called Clancy, alongside cryptic images, including a map of a hellish city built by a cult, called Dema. Clancy's mysterious messages were about wanting to escape Dema, despite being banned from talking about the city in the first place.
If that sounds complicated, twenty one pilots fans have decoded it all. And they've decided that Dema represents our inner demons – and that the band are opening a wider conversation about mental health. The record, and Jumpsuit, are about fighting our insecurities and the grip they can have on us.
And it has a seriously epic video
Full of references to Dema, fans went crazy for Jumpsuit's video.
Filmed in Thórsmörk, Iceland, it sees Tyler being chased on foot by a creepy red-hooded figure on a horse, who smears Tyler's neck in a strange black ink. He's then covered in yellow confetti and transported to a burning car. Just your average day out, really. But it's the perfect match for Jumpsuit.