Jack Ryan: What the reviewers think
Emma Bullimore from the TV Times and TV critic Lorna Cooper share their thoughts on new series Tom Clancy's Jack Ryan on Prime Video.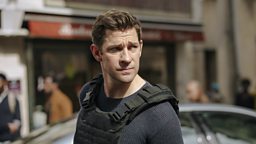 (Photo: Prime Video)
Lorna says "Our hero has been slightly reinvented"
"This character has been on the big screen five times, played by the likes of Harrison Ford, Alec Baldwin, Chris Pine and Ben Affleck. This time around it now moves to the small screen by way of Amazon and in this case we have Jack Ryan, played by John Krasinski (The Office - US) reinvented with a more modern sensibility.
"He's a little bit more sedate because when it opens he's actually tied to a desk. He's a CIA analyst, and in the middle of his normal day-to-day work he accidentally stumbles on some dodgy bank transactions and figures that we've got a new Bin Laden on our hands.
"Enter his boss, who's played by Wendall Pierce from The Wire, and the two of them have this antagonistic relationship. They end up moving from the desk to the field, to the Middle East and on a massive, massive mission to save the world.
"For people who haven't seen the US version of The Office, they may well be a little underwhelmed by John Krasinski's performance because I didn't feel like he grabbed me or that the characterisation grabbed me. I was more interested in his boss, played by Wendell Pierce, because he's world weary and it just oozes out of every ounce of him.
"One thing they did try and do was flesh out the characterisations of the terrorists. They tried to give them a bit more of a backstory. They tried to elicit our sympathies a little bit more - how they got radicalised and why their situation is as it is, so for that I'll give them a little bit of thumbs up.
"But overall it just felt too familiar to me. There's nothing distinctive about this new series. There's nothing that differentiates it."
WARNING: Third party content may contain ads
Emma says "John Krasinski is the reason to watch it"
"I am a big fan of John Krasinski, who plays Jack Ryan. He's someone that you look at and you relate to - he's 'one of us' - not a Hollywood type like Chris Pine or Alec Baldwin. You know you're instantly with him and I think he's brilliant in this. He is the reason to watch it for me.
"It's good, it's okay, but it doesn't really know whether it wants to be Homeland and really gritty and realistic, or whether it wants to be a big blockbuster. It's true that all the action scenes and explosions are all really well done but then sometimes it loses realism.
"It's not terrible, it's just sort of average. I liked that character and I think he does it very well. I think he brings something to it that is a bit different.
"But also I found the storytelling slightly confusing. Sometimes I had to really concentrate, I was quite confused and other times I felt I was being hit over the head with it. I think you have to have a certain level of consistency as a viewer to know how you're supposed to approach it."
Jack Ryan is available on Prime Video from Friday 31st August.
TV club is on 5 Live's Afternoon Edition every Monday from 15:00.
Watch the Jack Ryan review in full
TV Club reviews the new series from the creator of Line of Duty.

TV Club reviews the new series from the creator of The Simpsons.