Napoleon in Torbay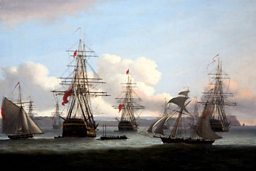 'The Exile's Departure' courtesy of: Torre Abbey Historic House and Art Gallery, Torquay, copyright Torbay Council.
Following his defeat at the Battle of Waterloo (1815) Napoleon Bonaparte, Emperor of France, surrendered to the British and was brought to Torbay on board HMS Bellerophon. This picture shows the scene in Torbay on 7th August 1815, when Napoleon was transferred from the Bellerophon to HMS Northumberland for transportation to exile in the island of St. Helena.
The Bellerophon is to the right and the Northumberland, under the command of Captain Ross, is to the left; the central man-of-war being the Tonnant, flagship of Admiral Lord Keith, Commander-in-Chief, Plymouth. To the right of the Northumberland, the Tonnant's barge is conveying Napoleon, Count Bertrand and his wife, General Gourgaud, Count de Las Casse and Admiral Keith to the Northumberland, which sailed for St. Helena at 6pm. Luny knew a number of naval personnel who were involved with this operation, and 'The Exile's Departure' was doubtless painted from their accounts.