It's Now Or Never - Elvis Presley
Bob Stanley dissects the story behind the Elvis classic 'It's Now or Never'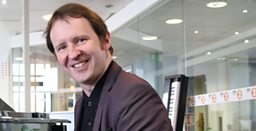 Bob Stanley
A song we finished in 20 minutes to a half-hour was the biggest song of our career.

Wally Gold
It was a single that I remember, growing up, as being in all of my friends' parents' record collections. On the black RCA label, in its maroon and white sleeve, It's Now Or Never had been the biggest international hit of Elvis Presley's career, eventually selling an astonishing 25 million copies worldwide. It had been number one in America over the summer of 1960, but British fans had to wait until just before Christmas 1960 to get a copy – this led to huge advance orders and the single entered the charts at number one, back in the days when this was an extraordinarily rare achievement.
The melody belonged to O Sole Mio, an Italian song that would become just as familiar to mine and to later generations as Just One Cornetto. Tony Martin's English-language version, There's No Tomorrow, had been recorded in 1949 - Elvis heard it while he was doing his army service in Germany, and it gave him the idea of doing his own version. He passed the idea on to his publisher, Freddy Bienstock, who was visiting him in Germany. As soon as he was back in New York, Bienstock tasked Aaron Schroeder and Wally Gold with the job of writing a new lyric – "Aaron wrote other hits, I wrote other hits," said Gold, who died in 1998, "but a song we finished in 20 minutes to a half-hour was the biggest song of our career." Schroeder would go on to write another number one for Elvis, Good Luck Charm, in 1962.
The reason for the delay in the UK release of It's Now or Never was because, unlike in the States, O Sole Mio was not in the public domain under UK copyright law, so the original composer, Eduardo Di Capua, had to be listed on the label. After some legal to-ing and fro-ing, the record was finally released in late 1960 with Mr. Di Capua - and O Sole Mio - both credited on the label.
As a stop-gap, before they could get It's Now Or Never into the shops, RCA in Britain had released what I consider to be one of Elvis's very best sixties singles. On the A-side was Doc Pomus and Mort Shuman's piano-led moaner A Mess of Blues – the American B-side of It's Now Or Never - with another Pomus/Shuman song The Girl Of My Best Friend (from the freshly released Elvis is Back! album) on the other side. Both songs were certainly strong enough to be hits on their own, and the Record Mirror chart credited the single as double A-side. It stuck at number 2 in the charts, behind Cliff Richard's Please Don't Tease. When RCA finally released It's Now or Never in November 1960 - with another great song from Elvis Is Back!, Make Me Know It, on the flip - it went on to spend eight weeks at number one, Elvis's longest ever spell at the top.
For years, there were rumours that It's Now Or Never had been released as a 78, but I'd never seen one - nor, it turned out, had anyone else. A few years ago, a copy had reached £9,000 in an online auction before it was withdrawn from sale, assumed to be a fake. As no one has ever seen a copy, it's a safe bet that A Mess Of Blues was Elvis's last shellac hit. By 1960, the seven-inch 45 was king.
Next week I'll be looking at the life and too-brief career of Sam Cooke.
Musician and journalist Bob Stanley in conversation with Brian Matthew.