The story of Brian and Jennifer
Brian and Jennifer Aldridge's long marriage, which began in 1976, has been one of the most eventful partnerships in Ambridge.
The couple met at a dinner party: upwardly mobile Jennifer, who had been brought up by mother Peggy and her alcoholic father Jack in The Bull, was immediately attracted to the Sherborne-educated, and wealthy farmer Brian Aldridge.
They were married on 29 May 1976. Thus began Jennifer's ascendance to the social pinnacle of Ambridge: she is every inch the elegant, capable pillar of the community, able to cope with a family crisis as easily as she can turn out a perfect venison casserole. Jennifer and Brian are evenly matched in terms of both being extremely conscious of their social position: Jennifer delights in talking about 'the Aldridge Millennium Wood'; Brian is extremely proud of Jennifer's attributes as the hostess to make him the envy of his shooting chums.
Although these days it's Brian who has the reputation as a rogue, in the early days of their marriage, Jennifer's close friendship with John Tregorran was a cause of concern.
In 1985 it was Brian's turn – his fling with Caroline Bone (now Sterling) was discovered by Jennifer. Alice Aldridge (now Carter) was the result of their rapprochement.
Back to Jennifer. When her former husband Roger Travers-Macy, (Debbie's father and Adam's adoptive father) reappeared in 1991; he and Jennifer rekindled their romance. Brian's flirtations continued with an interest in Mike Tucker's wife Betty, who cleaned for Jennifer; pony club instructor Mandy Beesborough; and the delegate from Ambridge's twin town of Meruelle.
The big affair, however the one that shook Ambridge to its core – was with Siobhan Hathaway, a much younger, married woman, with whom Brian had his son Ruairi. After much anguish and heart-searching, Jennifer magnanimously agreed to bring up Ruairi as their own after Siobhan's untimely death from cancer.
Jennifer and Brian are both strong characters. Brian's roving eye has caused huge problems, but his affection for Jennifer is entirely genuine and undimmed the prospect of giving her up when Siobhan suggested he ran away with her and Ruairi was too much for him.
Jennifer could be dismissed too easily as a political wife – a woman who turns a blind eye to her husband's philandering in exchange for a credit account at Underwoods and a fantastic kitchen. But Jennifer has more depth to her than that. Her own chequered romantic history means that she can never entirely take the moral high ground, and this also reveals itself in the understanding and good sense she shows in dealing with her grand-daughter Phoebe's romantic struggles.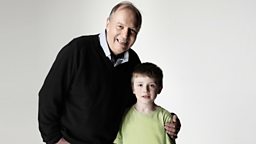 Brian Aldridge and his son, Ruairi Donovan
Jennifer's acceptance of Ruairi as one of the Aldridge family was a game-changer. She knew exactly what she would be taking on; she rarely mentions her sacrifice and she put up with the shocked gossip in the village when Ruairi moved in. She is, like her mother Peggy, made of strong stuff and Brian remains grateful for the stability she gives him. Jennifer's blind spot is Kate, for whom she will forgive anything; Brian's is his libido.
Brian's fear that his manly powers and business acumen were waning when he was removed from the Borsetshire Land board was matched by Jennifer's questioning of her own achievements at her 70th birthday party.
The couple, at last, seem to be on an equal and stable footing at the moment. But there could be another ticking time-bomb: patrician Brian always longed for his own son, and now he has one... it's just not Jennifer's. How this will play out when Ruairi comes of age remains to be seen.