How Ulva's Lachlan Macquarie became the 'Father of Australia'
Strolling down the sunlit modern streets of Sydney, Australia, one name reoccurs: Macquarie. There's Macquarie Park, Mrs Macquarie Point, Macquarie University, Macquarie investment bank, and, naturally, a Macquarie Street.
Far from a local boy-done-good, the name harks back to a Hebridean Scot hailed as the 'Father of Australia'.
After distinguished service in North America, India, and Egypt, in 1809 he was appointed governor of the British colony of New South Wales.
At the time seen as little more than an overseas prison for Britain's criminal elements, in his 11 years in charge Macquarie did much to transform the territory from penal colony to a land fit for settlers.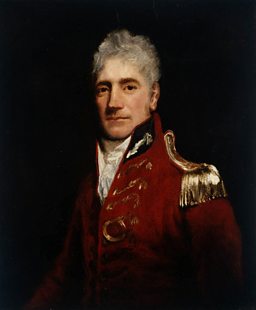 Lachlan Macquarie
As the colony's population rose sharply, Macquarie engaged in major public works including the building of hospitals, the planning of new settlements, the establishment of a bank, and the introduction of a new currency.
An authoritarian, Macquarie also earned a reputation as a fair-minded reformer who did much to improve the lives and conditions of the former convicts.
Macquarie granted them the same citizenship rights as free settlers — a move which later generations saw as the first essential steps to nationhood for the fledgling Australia.
Macquarie eventually retired and moved back to Scotland in 1821. He died in 1824 and was buried on Mull.
His grave is maintained by the National Trust of Australia. The inscription on the tomb simply reads: The Father of Australia.
Latest features from BBC Scotland