DFS sales tactics
DFS is one of the biggest sofa retailers in the UK and their sales have risen. But not everyone at the company is happy with how DFS sometimes sell extras to customers.
We heard from a former DFS employee who told us that he was unhappy at the way some staff members were selling added extras to customers, a sales technique he says was known as assumptive selling. They stated that "it's really clever psychology, we talk about the sofa, we talk about the service and then just add everything on, congratulate you, thank you very much, make you feel really good and show you the door." Although extras are detailed on the final bill, according to this insider, staff sometimes hide the cost of these extras within the monthly repayment figures and customers may not realise just how much the total cost will be "you say it's going to be £40 a month and then you say thank you very much and get them to sign but in the mean time you've added all those things because I have mentioned them".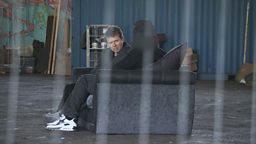 They added that they sometimes also oversell the benefits of the stain protection insurance as the exclusions are never explained properly. They said "we never explain the exclusions at all but you keep explaining the benefits. We just sell it to everybody. Even if a customer asked, we say it's covered, don't worry we cover everything". His testimony has been backed up by another DFS whistleblower who still works for the company. They told us their "biggest concern was the huge pressure staff members are under to sell extras… this pressure can also lead to assumptive selling".
We decided to put these allegations to the test. We visited ten different DFS stores around the country to find out for ourselves the truth about DFS's sales techniques.
In each store we enquired about buying the 2 seater Jive sofa, reduced from £958 to £479. In one store we visited, the salesman automatically added the fabric protection plan to our bill without telling us that was optional and it cost an additional £80. On top of that, he omitted to tell us about the £45 delivery charge as well, instead hiding both these costs within the monthly repayment figures.
Our consumer law expert, Deborah Parry, said that "if a consumer is being sold a package and isn't aware that some of the items in that package are optional and there's an extra charge for them then this will be assumptive selling."
Nine of the ten stores visited did tell us that the fabric protection plan cost £80 but three failed to make it clear that this was an optional extra, didn't explicitly ask if we wanted it and just rolled it into our quote. They may have given us the paperwork to approve at the end of the sale but that would have been too late according to Deborah Parry "Some of the stores were better than others but in many cases even where the cost of the insurance was explained the consumer didn't explicitly agree with having it included. The item was simply added. In one instance there was definite assumptive selling and in other cases consumers were being led to purchase something without fully realising what they were being committed to".
All ten stores we visited tried to persuade us to upgrade from the Jive's standard fibre filled cushions, to the more expensive foam cushions by telling us it would be difficult to maintain and wouldn't look good.
We also witnessed overselling when it came to the five year fabric protection insurance. All ten stores talked to us about it and eight of them gave the impression that anything we could do to the sofa would be covered. This is despite there being a number of exclusions listed in the terms and conditions. When we specifically asked whether vermin damage was covered, over half the stores gave us the impression that is was even though it is a specific exemption. We also asked if the protection plan would cover the sofa if we put it in a rental property. Four of the salespeople told us it would be covered. In fact, three went even further and told us that the tenants could pretend to be the landlords in order to validate the claim or the way to do it would be for us to call and say there was a mark on the sofa and someone would go out to the rented house and fix it, something that Deborah Parry says would not only "void the insurance policy but it could also be a criminal offence under the fraud act."
On a more positive note, staff provided accurate information about the quality of the sofa's construction. Furniture and joinery expert Roger Galpin told us that upon inspecting a DFS sofa he found hard wood framing along with modern day panel products. This, together with increased section sizes on the load bearing areas, has created a sofa of "fairly robust construction."
Company response

DFS told us: As the UK's market leading sofa retailer customer service is paramount for DFS – it's the foundation upon which we've built our business over the past 44 years. That's why in any given year, our 700 sales advisors collectively receive over 4,000 days of training. Central to this is the importance of treating customers fairly, in an open, honest way and having the best possible product knowledge.
We supply 40,000 customer orders per month, and believe that our principles, training and processes are all reflected in our feedback surveys, in which less than 0.05% (that is, one twentieth of one per cent) of customers raise any concerns about the sales process. However, we constantly strive to improve our service, and if any customers have not been treated fairly then we apologise unreservedly.
We are rigorously investigating the points put to us by the BBC. We are confident the overwhelming majority of staff treat customers with the respect they deserve, but if there have been any instances where this hasn't been the case, we have a zero tolerance policy and will take appropriate action.
As a company, we take care to ensure sales guidelines for our staff are realistic, reflecting genuine customer demand. The training programme that includes these guidelines is independently audited and endorsed by the Institute of Sales and Marketing Management. The guidelines are designed so that staff are not placed under undue pressure and instead are in the best possible position to present a balanced and transparent view of the options open to customers. We train our staff to follow this ethos and if there have been any cases where this has not been followed, then it is very much against our beliefs on how to do business.
One element of setting sales expectations for staff concerns the "optional extras" that customers can choose, at an added cost. Typically, only three such options are available on each model. There are other options available to customers when customising their sofas (such as a choice of feet for the furniture), but these generally come at no extra cost.
We have a process in place (and staff are trained) to ensure that during the ordering/quotation stage of a sale customers are made aware of and approve each and every component of their order, including the cost of each component. The details of the order should be made clear every step of the way and then confirmed or amended at the end of the sale in the formal quotation process. It seems that with one exception, the BBC's reporters pulled out of their orders before engaging in this formal quotation process, let alone committing to a purchase. Therefore the BBC's reporters did not have the opportunity to review the formal written quotation.
So far as seat fillings are concerned, staff are trained to explain the difference between foam and fibre-filled cushioned seats and to make clear that regular plumping and turning are required to maintain the look of the fibre-filled cushions. We should add that because the vast majority of our sofas come with foam as standard, the choice of a foam option in fact applies to less than a fifth of our range. Nevertheless, if there are instances in which a balanced view has not been presented then we will certainly investigate this.
We are proud of our 'Sofa Care' fabric protection policy - it provides excellent value for money and extensive coverage against the most common forms of accidental damage affecting furniture in the home, with only very limited, industry-standard exclusions. Over 9 out of 10 claims against this policy are successful, helping over 25,000 customers in the past year alone.
The "Sofa Care" fabric protection policy leaflet clearly states that the information provided in it is only a summary and that limitations and exclusions apply. Comprehensive details of the coverage are set out in the sales contract as well as on the DFS website.
Nevertheless, we are sorry if any of our customers have been given incorrect information about the policy. The BBC has refused to give us specific examples of such advice being provided, but we have taken urgent action to remind all staff of the policy's coverage and exclusions. Above all, DFS wishes to make absolutely clear that for any member of its staff to advise customers on how claims could be manipulated would be totally unacceptable and, if proven, would be dealt with severely under our disciplinary process.
Finally, if there is any element of tonight's programme that customers would like to discuss then they should please get in contact with our customer service team on 01302 573348 / contactus@dfs.co.uk.