Dyslexia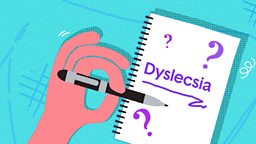 One in ten people are dyslexic. But having difficulty with words doesn't have to hold you back.
Dyslexia has nothing to do with intelligence
What does it mean?
Dyslexia literally means "difficulty with words". It affects one in ten of us, some more than others, and famous dyslexics include Jamie Oliver and Richard Branson.
Think you might be dyslexic?
Take a look at the following and see if you recognise any of these indicators:
You often have difficulty with reading, writing and spelling. It takes you longer to do these things and you have to work harder than others.
Working with numbers, directions and short-term memory may also be affected.
You may be much better at talking than you are at writing.
You learn best by being "hands on" and trying things out.
You are often very good at other stuff like art, drama, music, sports, mechanics, story-telling, sales, business, designing, building, or engineering.
You may get fed up at school as you fall behind in some subjects, or get told you're not trying even when you are.
Being dyslexic doesn't mean you're thick. In fact, you may score very highly on IQ tests - it has nothing to do with intelligence. Dyslexia often runs in families.
What do I do if I have dyslexia?
If you think you have dyslexia, speak to your teacher. Every school should have a special needs coordinator who could test you for dyslexia, or arrange an educational specialist to do this.
How is dyslexia treated?
If you have dyslexia, you should get educational support. This support aims to help overcome the problems dyslexia brings, for example to improve your reading speed. People with dyslexia achieve just as highly as those without dyselxia, but you need the right support. So don't sit in silence and get frustrated if you think you may be affected.
BBC Advice factfiles are here to help young people with a broad range of issues. They're based on advice from medical professionals, government bodies, charities and other relevant groups. Follow the links for more advice from these organisations.