Star Guide 2013 (PDF)
The Star Guide is our most popular resource - download and print out your copy.
There's a whole Universe of incredible wonders above your head. This guide starts with the basics and shows you where to look and what you can see in the night sky. With star maps and amazing facts for stargazing throughout the year.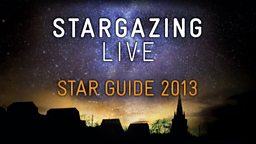 Download the Star Guide and get gazing:
(Right click and 'Save Target As...' or similar. Note that Adobe Reader is required.)

BBC Schools Website offers some valuable tools for teachers to encourage their students to get stargazing. Find out about Schools' Telescope Projects, where schools can get involved in exciting telescope projects to access images of space.
Inspiration for activities for event organisers (PDF 2.7MB, Adobe Reader required).

Find out how stars shine and why we're made of star stuff in this beautifully animated short film.