Getting Your First Job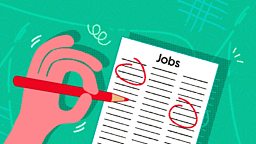 Thinking of getting your first job? Then you'd better get clued-up on what's out there, how to apply and shine in a job interview...
Your careers advisor at school or college can help you put a good CV together
Weekend job? Part time? Full time?
Whatever kind of job you're going for, the way to go about it is much the same... (For info regarding employment law, pay, etc, see the Holiday Jobs factfile).
Where to look
Jobs are advertised by:
Job vacancy websites
Newspapers (local and national)
Recruitment agencies
Shop windows
You could also take your CV along your local high street - even if they have no vacancies you can show them how charming you are, so when they do have a vacancy you'll be the person they call.
What's a CV?
It stands for Curriculum Vitae, and is basically one side of A4 containing your personal details, skills and experience. Your careers advisor at school or college can help you put a good CV together.
Covering letters & application forms
You need to send a cover letter with a CV, and some employers want you to complete an application form. There's detailed info on cover letters and application forms on these websites:
Not got any experience?
Everyone has to get a first job, and you can big up your transferable skills on your CV. If the job description asks for 'excellent communication skills' or 'organisational skills,' you can mention occasions when you had to use these skills, e.g. being a prefect or getting all your coursework in on time.
The interview
If an employer rates your CV and application form, you'll be invited to an interview. The general rules of interviews are:
Dress one shade smarter than those who do the job already.
Turn up on time.
Greet the person who's interviewing you by name: "Hi Joe / Mr Smith (depending on which you'd think they prefer), nice to meet you."
Tell the truth.
Think about what questions you'll be asked (based on the required skills listed in the job description) and prepare your answers in advance.
BBC Advice factfiles are here to help young people with a broad range of issues. They're based on advice from medical professionals, government bodies, charities and other relevant groups. Follow the links for more advice from these organisations.