The Fourth Dimension
The Myth Makers
ALL CHANGE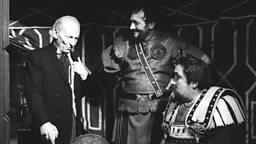 Vicki elects to remain behind in Troy, adopting the name Cressida and marrying Prince Troilus. Taking her place aboard the TARDIS is the handmaiden, Katarina, but she won't be with the Doctor and Steven for long...
MYTHS AND LEGENDS
Although the TARDIS had often taken the Doctor and his companions into Earth's history before, The Myth Makers was the first story to focus on a 'myth' – Troy and the Trojan horse - rather than an actual historical event.
MY KINGDOM FOR A HORSE
The story of the siege of Troy is told in the writings of Virgil and Homer. It tells how the Greeks, after besieging the city of Troy for two years, built a wooden horse and then sailed away. The Trojans took the horse into their city as a victory trophy. But inside the horse were thirty Greek warriors who opened the city gates to allow in the rest of the Greek army that had secretly returned. The city was destroyed. There is no conclusive evidence that Troy actually existed or that the subterfuge with the horse ever happened. In The Myth Makers, the Doctor is aware of the myth and actually uses it as his inspiration for building the horse.
CASTING CALL
Before winning the role of Katarina, Adrienne Hill auditioned for the part of Joanna in The Crusade but lost out to Jean Marsh.
FROM THE BIG SCREEN
Barrie Ingham, who played Paris, had previously appeared in Doctor Who – not in the TV series but in the first cinema movie, Doctor Who and the Daleks in which he played the Thal, Alydon.
EXTRA, EXTRA
Amongst the non-speaking extras in this story is Mike Reid who would find later fame in, amongst other things, EastEnders.
KING OF COMEDY
The Trojan King, Priam was played by popular actor Max Adrian who is predominantly remembered for his comedic roles. Adrian would later play opposite Frankie Howard in the regular role of Ludicrus Sextus in Up Pompeii and starred with Twiggy in Ken Russell's movie adaptation of The Boyfriend.
THE GLASS CITY
The city of Troy was established by using a glass shot. Designer John Woods had the interior of the city painted on a glass sheet which was taken on location. With the camera positioned at a high angle and shooting through the glass with the actors beyond, the impression was given of a city populated by moving people.