Finding A Boyfriend or Girlfriend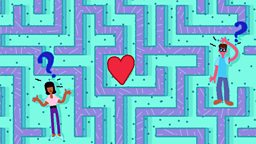 Finding a special someone can be tricky, but there are things you can do to help get yourself out there and find that significant other...
Dating different types of people is good, even if only to make us realise what we don't want
The agony of choice
With all those millions of fit, eligible fish in the sea, you'd think it would be easy to find a suitable boyfriend or girlfriend. But sometimes it feels like the hardest thing in the world.
One by one, all those fish get ticked off the list. Either they're not the right one for you, or worse still they're perfect - but aren't interested.
So how do you go about finding that special someone?
Trial and error
You can't expect to get it right first time, so going on dates is a good way to test people out. Most of us go through our share of dull hotties, exciting weirdos, nasty charmers and kind ogres in the quest for true romance. Either that or it's a long barren spell. Experimenting with different types of people is good, even if only to make us realise what we don't want.
Get out there
You need a bit of luck to find someone good, but you can make your own luck. That simply means putting yourself in situations where you meet new people. It could be a party, an after-school club, a new hobby, the gym, a charity event, a speed-dating event or even a website. You don't have to hold up a sign saying 'I'm single'. Just be approachable and friendly and who knows what might happen. You could work on your chatting-up skills too.
Don't panic
If it never seems to happen, remember there's no rush, especially when you're young and fancy-free. Some people have a new snogging partner every week, but you have to ask yourself whether you want a fling or something more meaningful. If it's the latter, you might have to be patient before you hook up with your prize catch, but when it does happen, it will be worth the wait!
Same sex relationships
Under-18s can have a hard time meeting people as the gay scene is largely focused on bars and clubs.
But help is at hand. There are a number of youth groups, publications, websites and helplines dedicated to helping you link up with others.
Pride festivals are outdoor events for Lesbian/Gay/Bisexual/Transgender people that take place every summer around the UK.
They basically involve hundreds or sometimes thousands of gay guys and girls having fun in a big park.
Persuade a mate or two to go along with you. You never know who you might meet.
When you're out on the pull, make sure you're clear about what you're looking for. Are you looking for love, or something a bit less serious? Make sure you're both clear about what you're doing.
BBC Advice factfiles are here to help young people with a broad range of issues. They're based on advice from medical professionals, government bodies, charities and other relevant groups. Follow the links for more advice from these organisations.