Stars sing praises as Proclaimers celebrate 30th anniversary
In 1987 The Proclaimers, comprising twins Charlie and Craig Reid from Auctermuchty in Fife, launched their debut album, This is the Story. Over the next 30 years they built an international reputation based on well-crafted songs unashamedly sung in a Scots accent.
As part of the 30-year celebration of the group, the BBC Scotland programme Proclaimers: This is the Story recorded musicians paying tribute to the talent and influence of a unique band.
Enjoy these exclusive performances as three generations of Scottish musicians interpret classic Proclaimers songs.
Proclaimers: This is the Story is on BBC Two Scotland on Wednesday 21 June at 21:00 and will be available to all UK viewers for 30 days on BBC iPlayer.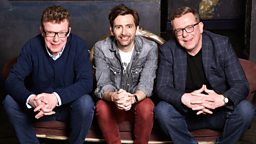 Craig and Charlie Reid with self-proclaimed Proclaimers fan David Tennant.
Edwyn Collins: Why I chose Ghost of Love
For his choice, Edwyn Collins picked a melancholy love song. In 2002 Collins produced The Best of The Proclaimers compilation album. The band recorded three new songs for the album and Ghost of Love was one of them.
"Yeah, they're great. Ghost of Love is, to me is fantastic. It's a lovely slow song, beautiful lyrics. Craig did the vocals and Charlie harmonised."
KT Tunstall: Why I chose Scotland's Story
For her Proclaimers tribute, KT Tunstall chose a song about the role immigration has played in shaping the country – Scotland's Story.
"Scotland's Story just really struck me as quite a different song for them, that they were really saying something incredibly poignant and quite brave. It's quite a critical song of the way that Scotland's history is logged.
"Here we are in 2017 and it couldn't be a more poignant, relevant song for what's going on in the world and I just thought for right now, it's an amazing song to sing."
Prides: Why we chose Letter from America
Glasgow band Prides are Stewart Brock (lead vocals, keys) and Callum Wiseman (guitar, keys, backing vocals). For them there was only one choice as both were ardent fans of Letter from America.
Callum: "There's something about a song whose sentiment is longing for home that connects with people all around the world."
Stewart: "The Proclaimers live in a part of my brain that makes me feel triumphant."