Finlandia by Jean Sibelius
Sibelius loved Finland. One of his most beloved works is Finlandia, which is about the Finnish people overcoming their enemies. Written in 1899, Finlandia is a tone poem – this means it was composed to portray a particular story. It was written in protest against the increasing censorship by the Russian Empire which was taking place in the late 19th Century.
This is music about national identity. It captures not only the vast, majestic landscape of Finland but also its national pride at a crucial moment in the country's history.
How does music reflect our own national identity?
Listen out for: The hymn-like theme towards the end of the piece. This was later given words and is one of the most important national songs in Finland, second only to the real national anthem.

Watch the introduction film at the top of the page then starting exploring the music:
Watch the full performance
About the composer
JEAN SIBELIUS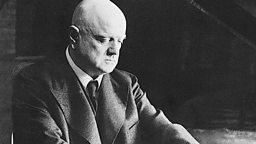 BORN: 1865 / DIED: 1957 / NATIONALITY: Finnish
Undoubtedly the most famous composer ever to come out of Finland, Jean Sibelius (pronounced Zhaa(ng) Sib-ayli-uss) completed seven amazing symphonies and a host of vivid descriptive music using his beloved country as inspiration. After this at the age of 59, he abruptly retired from music and spent his remaining 30 years happily surrounded by his family. He said simply that his final 7th symphony could not be bettered - so why try? Sibelius loved his country and frequently went for long walks in the forests near his home. These walks and the stories of ancient Finnish legends that he read and told his children became the basis for many of his compositions. Finnish people still hold his music close to their hearts. The school that he studied music at was renamed The Sibelius Academy, for many years his face was on Finnish money, and his birthday is celebrated every year as 'Finnish Music Day'.