The One Show NHS Patients Awards - The Winners
The One Show NHS Patients Awards - The Winners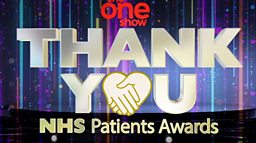 A fantastic night was had by all as we said a big 'thank you' to the brilliant people who keep the NHS going day after day. You nominated in your thousands and we were able to award five fantastic people, a big thank you to you for getting involved and to all our winners and nominees.
NHS Patients Awards Unsung Hero - Alex Abbott
Voted for by you The One Show viewers, Alex is a Porter at Evesham Community Hospital. He is 90 and has given 60 years of service to the NHS, during this time he has had many roles; working as a mortician, a telephonist, a gardener and even the ward's Father Christmas. His colleagues say; "whatever the weather Alex is always smiling, chatting to people around the hospital and looking on the bright side of life."
Lifetime Achievement Award - Aileen Coomber
Aileen is a Staff Nurse at Shepherd House inpatient recovery unit. She is 81 years old and still works as a mental health nurse on a recovery unit for people with schizophrenia. Her nominator says of Aileen: "Aileen is an example, in the ever changing world of nursing, that kindness and compassion is at the core of the care we deliver and Aileen has this in bucket loads."
Healthcare Award - Sohier Elneil
A big thank you to Sohier Elneil who is a Consultant Urogynaecologist and Uro-neurologist at University College Hospital. She is a dedicated surgeon who helps patients who have had complications following mesh implants. She was nominated in the Healthcare category by a number of individuals, who all praised her excellent technical skills and compassionate bedside manner
Children and Young People's Care Award - Malcolm Robinson
Malcolm is a Chief Biomedical Scientist at Worthing Hospital in West Sussex. Amongst other amazing things he does, he arranges for young patients to have a tour of the blood lab in a bid to alleviate their fears of having blood taken. He was nominated by Claire Baldwin.
Nursing and Midwifery Award. - Fiona Chaâbane
Fiona is a Clinical Nurse Specialist at Southampton General Hospital. She supports patients and their families through young-onset dementia. She was nominated by Mandy and three members of her support group, Sole Sisters.