Antiques Roadshow play along
Problems with the Play Along game on Freeview?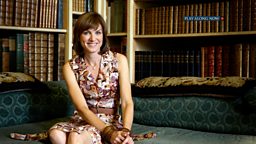 Some Freeview viewers have been experiencing problems with the Antiques Roadshow red button play along. If you have selected the play along on the red button menu and there are no values on screen, but you can see your selections when you press the colour keys, you may need to retune your set-top-box.
Please follow this link to find out how: http://www.bbc.co.uk/faqs/missing_digital_channels
Step-by-step instructions on how to play along with the show using BBC Red Button.
Demonstrate your knowledge of antiques by playing along with Antiques Roadshow. Our new valuation game is simple, fun and free to play. Consider each of the objects featured in the programme, select an option before our experts give their valuation and see how many you get right.
What do I need to do?
Press red. Freeview and Satellite viewers can play along with the BBC One programme by pressing red and using the colour buttons on their remote control to select a value. We'll give you your total score at the end of the programme. Red Button doesn't work on recorded programmes and isn't available in iPlayer, yet.
How do I play?
Choose a value. Press red while watching Antiques Roadshow on BBC One and you will be asked to choose a value for each of the objects in turn as they appear in the programme. A clock will indicate how long you have left before our expert gives their valuation. We will keep a total of the objects you value correctly and give you a ranking based on your result at the end of the programme.
You'll need to get over 75% to reach Expert level so good luck!
Watch a video demo of the BBC Red Button play along in action or follow our step-by-step instructional slide show.
Be sure not to change channel otherwise we won't be able to keep a tally of your score.
Some of the items won't be valued in the programme, but we'll let you know when this is the case and ask you to wait for the next object to continue playing.
Your results
Novice (0-24%) – Oh dear. Perhaps antiques aren't your thing? Keep playing along and you'll be sure to do better!
Enthusiast (25-49%) – Promising. You've demonstrated some antiques awareness but there's still room for improvement. Keep trying!
Connoisseur (50-74%) – Very good. Over half marks suggests you have a keen eye for antiques. Well done!
Expert (75-100%) – Excellent. You clearly know your Meissen from your Moorcroft. Very impressive.
Platforms it works on...
It doesn't work on Freeview HD, FreeSat, Virgin
Find out more about how you can play along with Antiques Roadshow using your mobile device.