Queens of Melody Schedule
The BBC Philharmonic and Asian Network collaborate for the first time ever in a celebration of the life and songs of Pakistani singer Noor Jehan and other legendary singers. International artists Shazia Manzoor and Qurat-ul-ain Balouch perform alongside the BBC Philharmonic.
When to Watch
The BBC Red Button programme is available on Digital TV across Sky, Freeview, Freesat and Virgin from 06:00 am on Monday 21st January for 5 days.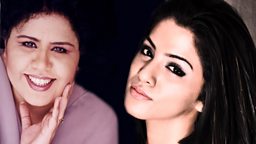 See below for full schedule which may be subjest to change
Full Schedule
The concert was recorded on Monday 12 November 2012 at the ALCC in the heart of Bradford and was hosted by Noreen Khan and Tommy Sandhu.
| Freesat | Sky | Virgin | Freeview |
| --- | --- |
| Mon, 21st Jan: 06:00 - 10:00 / 12:00 - 20:25 / 21:00 - 23:30 / 24:30 - ongoing | Mon, 21st Jan: 06:00 - 10:00 / 12:00 - 20:25 / 21:00 - 23:30 / 24:30 - ongoing |
|  Tue, 22nd Jan: Ongoing - 07:00 / 09:00 - 10:00 / 12:00 - ongoing | Tue, 22nd Jan: Ongoing - 07:00 / 09:00 - 10:00 / 12:00 - ongoing  |
| Wed, 23rd Jan: Ongoing - 07:00 / 09:00 - 10:00 / 12:00 - 21:55 / 28:00 - ongoing | Wed, 23rd Jan: Ongoing - 07:00 / 09:00 - 10:00 / 12:00 - 21:55 / 28:00 - ongoing |
|  Thur, 24th Jan: Ongoing - 07:00 / 09:00 - 10:00 / 21:30 - ongoing |  Thur, 24th Jan: Ongoing - 07:00 / 09:00 - 10:00 / 21:30 - ongoing |
| Fri, 25th Jan: Ongoing - 07:00 | Fri, 25th Jan: Ongoing - 07:00 |