The Mix-Tape
Are there three songs that you always play when you're up, down or out?
We want to hear three of your favourite songs for the the Mix-Tape.

Jo will suggest some themes for you or you can think up your own.

Maybe the three songs you always play when you're fed up, or when you're having a dinner party or the songs you always play before a night out.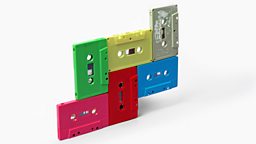 You can get in touch by emailing jo.whiley@bbc.co.uk with the subject title 'The Mix-Tape' and telling us:
The theme of your Mix-Tape
Your three choices of tunes (title and artist for each)
Name
Location
Email Address
Contact Phone Number (daytime and evening)
Anything else you'd like to tell us about your Mix-Tape
We'll pick our favourites from your Mix-Tape suggestions and put them on the air.
Please note: we can't guarantee that all the suggestions we receive will be featured in the show, but thank you for taking part.