Lu Corfield Interview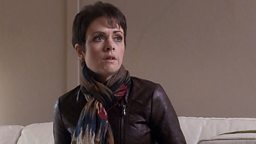 Lu Corfield returns to Doctors as Freya's older sister, Lois...
Welcome back Lu! So you are playing Freya's older sister, Lois – how did this come about?
I started joking with the producers about coming back to Letherbridge even before I'd left but; when you're killing off your character, you make it quite a challenge. I remember annoying Peter Lloyd (Series Producer) by repeatedly sending him the same text that said, "I'm coming back as a ghost," "I'm coming back as a ghost."
Then, after I left, we got quite far in terms of actually turning that joke into reality. We talked seriously about a storyline for an episode where Freya was going to 'appear' to Kevin when he was going through a tough time. It was, obviously, going to be very tongue-in-cheek, but I loved the idea and the episode got scripted.
I then messed everything up by getting a theatre tour that clashed with filming dates and we couldn't make it happen. So that idea was shelved, but I kept talking to the team about other possibilities.
Whilst all of this was happening, I'd made the decision to lose weight and so that brought some exciting opportunities into the mix. Because I was starting to look so different, we began playing with the idea of me coming back as Freya's sister.
It was a big gamble but the final, "let's do this" moment happened at last year's Soap Awards, when people kept coming up to me and the producers saying they didn't recognise me. That gave us faith that, on screen, it would be plausible and we could make the leap work.
What's happened, eventually, has worked out better for everyone. We've gone from me coming back in for one episode as Freya, to me coming back for a full storyline - and as a different person!
All of this wouldn't have been possible if the series hadn't kept Freya's memory alive. How much she is still referred to means an awful lot to me and has, ultimately, been the key that has allowed us to introduce Lois. It's been a treat to come back. I've never been looked after so well on a show and I owe everyone here a lot.
How different is Lois to Freya?
They're chalk and cheese. Freya was the popular one. The bright one. The achiever. The drama queen. Lois doesn't have a close group of friends and has never, academically, been a high achiever. She's not particularly ambitious; a big contrast to Freya who always had a clear view of where she was going and what she wanted to achieve.
As sisters, they didn't have anything in common and Lois felt second best when compared with Freya. There's a lot of jealousy there. It's been a lovely dynamic to play. Their instincts are so different. When challenged, Freya would stand and fight. Lois runs and hides. Freya wore her heart on her sleeve, but there's a secrecy to Lois. An edge. I know who I'd rather take out for a pint.
Are things likely to get heated with Mandy? And how is it working with Danielle again?
"Heated" is an understatement! I don't want to give the game away, but Lois' arrival turns Mandy's life upside down. The impact they have on each other is extreme and everything happens very quickly. A curiosity about Freya draws Lois to Letherbridge, but it's Mandy who keeps her there. That's all I'll say for now.
As for Danielle? Working with her always feels like coming home. It's comfortable, it's safe and its fun. In real life we're very close and I think that relationship comes through on screen. Danni has a beautiful truth when she's performing and I feel very lucky to have been partnered with her on this show. She makes me up my game because she pushes and challenges, as well as supports. I know we'll work together again. She has no choice in the matter!
Have things in Letherbridge changed much since you left?
The obvious change is that there are a lot of new faces - characters who have come in since I left, so people I never got to work with when I was playing Freya. But the feel of the place is the same and it's been lovely getting to know the new arrivals.
he atmosphere at the production base is just like I remember it. Warm, welcoming and manic. Everything and everyone operates at warp speed and you have to jump in with both feet and hold on tight. It's one of the things I love about the show. Every day is a rollercoaster.
The most obvious difference is that you have lost a lot of weight since we last saw you. What was your motivation for doing it?
I did it for me. Nobody else. I feel a lot healthier and happier as a result, so the journey has been worth it.
Anything in the pipeline for you?
Things have gone a bit crazy. I'm currently in a show at Soho Theatre. A three-hander called "The One". It's a new play, written by Vicky Jones and directed by Steve Marmion - Soho's Artistic Director. The other cast members are Phoebe Waller-Bridge and Rufus Wright, who are just sensational. I feel very lucky to be on stage with those two every day.
The show is already causing quite a stir and that's what we want. This isn't a 'safe' play. It's one that makes an audience question what they've just seen. It'll make you angry and it will upset you, but it will also make you laugh. It ticks all of the boxes. We run until the end of March, so come and see it!
Straight after the run I start shooting a feature. It's called "Annie has body issues" and has been written by one of my best friends, Nat Luurtsema. She wrote it for us. It's a wonderful script. A (very) black comedy. Think "Shallow Grave" mixed with "Bridesmaids" and you'll be on the right track. I'm thrilled it's happening. Ben Mallaby, who has worked with Nat on her previous short films, is our Director and he's brilliant.
It'll be a mad shoot but I'll be getting to play with my mates every day and call it work. What more can you ask for?
Doctors Notes
Interviews, musings and other extras from Doctors.
What does David think the future holds for Barry after being jilted at the altar?

He plays fast talking Dr Sid Vere, but how will he fare against our quick fire round?

Is Ian as quick witted as his character Al, find out with his quick fire questions!

Let's see how The Mills' midwife handles the 'quick delivery' of these questions!

The Mills newest resident answers some tough quick fire questions!

We talked to Peter Lloyd, Series Producer, to get the low-down on today's shocking developments.

We caught up with the actor and director to talk about directing for a fourth time...

Matthew discusses the challenges of directing Doctors for the third time!

Series Producer and Writer Peter Eryl Lloyd gives an account of the writing challenges behind Doctors' special two parter: 'Austenland'.

Actor Janet Dibley who played Elaine Cassidy in Doctors for two years has just written her first episode!

Doctors Series producer Peter Lloyd's final instalment explains the process behind creating a truly great character.

Doctors Series Producer Peter Lloyd explains the inspiration behind the character names in Doctors.

The musings of Doctors Series Producer on the perils of finding the best actor for the role.

Doctors Series Producer Peter Lloyd mourns the departure of some of his favourite Doctors actors.