Text or Tweet!
You don't have to be in the Question Time audience to have your say. The programme enjoys and encourages lively debate every Thursday night via red button and on Twitter.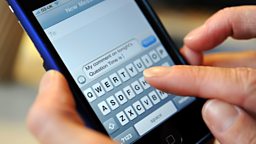 Text debate
You can take part in the debate during the programme by sending us a text message. The number is 83981 (charged at your standard message rate).
A selection of viewers' comments appear during the programme via red button, which allows you to continue watching the programme while messages appear across the foot of your TV screen.
Since 2012's switch from analogue to digital, Question Time now uses a new system to publish the texts for others to read.
Instead of single texts appearing on the Red Button, new texts now appear in batches. To see what others are saying, simply scroll down using your remote control.
Each week the programme receives up to 5,000 viewer comments.
A team of journalists sorts and selects messages as they arrive and publishes as many of them as possible.
Because of the time delay between sending a text message and it arriving on the BBC's computers, the programme is usually under way for a few minutes before the first text comments appear on screen.
Please note, the BBC reserves the right to edit your messages.
Social media debate
Live debate has developed around the programme on Twitter and Facebook.
Users exchange messages live during the programme by inserting the hashtag #bbcqt in their messages.
Unlike the texting platform, the Twitter and Facebook debates are neither run nor moderated by the BBC. You can also follow messages from the programme on its Twitter account, @bbcquestiontime, and on Facebook.
Both these accounts are also updated throughout the week between programmes with information and media.
Debate on BBC Radio 5 live
Each Thursday evening, BBC Radio 5 live simulcasts Question Time, and following the programme, Stephen Nolan and John Pienaar continue the debate in Question Time Extra Time.

If you'd like to take part, text 85058 (charged at your standard message rate).