Matt Allwright on the return of Food Inspectors
Presenter Matt Allwright has spent three series looking at other people's kitchens - but would his own pass an inspection?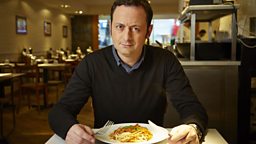 I got my hands dirty (and a bit bloody)

Matt Allwright
Welcome back! What can we expect from the return of the Food Inspectors?
I'm looking into the UK's food industry – I visited a poultry business and joined in with picking vegetables on a farm, so I got my hands dirty (and a bit bloody).
Gaby Roslin also joins the presenting team for this new series. Chris and Gaby find out what's in some of our favourite foods from chicken nuggets to bacon. And Chris looks at some of the worst cases of food poisoning. Don't let it put you off your dinner though...
Has being part of the show made you more hesitant to accept dinner party invites?
I'm not big on dinner parties anyway, but I love eating out and the show hasn't made me picky – quite the opposite. I'm filming up and down the country and often I have to grab what I can. Home cooked food is always best anyway.
Would your kitchen survive an inspection?
Absolutely. Mainly because I have very little to do with it. I have learnt some useful tips from filming the series, but I'm not brave enough to suggest putting them into force.
Has anything you've witnessed while filming changed your eating habits?
I'm more aware of the provenance of food and I now wash my hands when I come back from a trip to the supermarket. I'm still of the opinion that a little bit of dirt won't kill you, which drives hygiene expert, Dr Lisa Ackerley, who appears on the show, spare.
What's the most shocking thing you've seen on the job?
Hardly shocking, but impressive – for an hour, I shared a room with twenty thousand chickens all destined for our plates. They seemed fairly happy, comfortable, and very well behaved. It's not what I'd expected. It was as smelly as you'd imagine though.
What's the one piece of advice you think all home cooks need to hear?
Don't wash raw chicken. It can spread campylobacter [bacteria commonly found in raw meat that can lead to gastroenteritis], which causes food poisoning to other areas of your kitchen and can potentially contaminate other food.
And is there anything we should look out for when eating out?
All restaurants and takeaways are graded 1 to 5 – so if you're in any doubt you can look up the grading on the Food Standards Agency website. If they don't display the score prominently, you can assume they're not particularly proud of it.
In the first series, you uncovered the counterfeit alcohol trade. Has anything changed since the programme was broadcast in 2012?
From covering it on other programmes, it's clear that the problem hasn't gone away. If anything, it's getting worse. It's terrifically serious, this one, and personally, I wouldn't buy spirits from any outlet I wasn't 100% sure about.