About The Voice UK
We're back for a fifth series and we're raring to go! Paloma Faith and Boy George will be joining veteran coach will.i.am, while Kaiser Chiefs frontman Ricky Wilson is again on board for the ride! We're also thrillied to have Emma Willis and Marvin Humes joining us as hosts.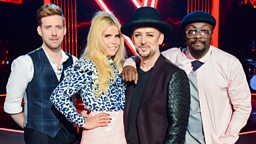 So now you've met our superstar coaches, how does our search for the UK's next big vocal talent work exactly? Read on...
The Blind Auditions
During the blind auditions, the coaches sit in their chairs facing away from the stage, so they can't see the artist during the performance. (do not try this at home). Actually, that's wrong, you can try this at home in our Homecoach app!) Anyway, if a coach is impressed by what they hear and wants them for their team, they hit their red button, at which point their chair rotates and they can see them; it's all very exciting!
But, if more than one coach turns their chairs, it gets real. Each coach throws down the gauntlet and thrusts their sword in the air for combat until the contestant takes all of the power and can choose which Coach they fancy going with.
And like we said, you too can experience what it feels like to be a coach by downloading our brand new interactive app, where you can play along during the show, pick and play your teams and battle your way to the top of our leaderboard! It's much easier than trying to turn your sofas round, we promise.
The Battles
So, after all the Blind Auditions each coach has 12 team members, and it's time for Battles to commence! Here, the coaches pit two of their own acts against each other to sing a competitive duel, then immediately after the performance, the coach then has the difficult decision to pick which artist they'll take through to the next stage...
But that's not all! At this point the other coaches are given the chance to 'steal' the losing artist for their team. And this year, there's a whole new twist, as each coach now gets two steals! Yes! They'll nab two singers instead of one! Still, the four coaches must pick their singers wisely, so if they missed out on an artist at the Blind Auditions, now is their chance to grab them back. And just like the Blinds, if more than one coach hits the button, the power passes back to the artist to decide which team they will shift over to. Once all coaches have secured their two steals, each coach will now have a mighty team of eight!
The Knockouts
As the series hits the Knockouts each artist must select a killer, signature song to perform (we'd pick Cotton Eye Joe because it's an awesome song.) Now the Coaches must pick only three artists from their new team of eight singers to take through to the Live Shows. Surely one of them will pick Cotton Eye Joe, right?
The Live Shows
Live shows! Omg! Omg! Omg! The final stage of the competition hots up when the artists go against each other during three weekly shows broadcast live on BBC One. This is where the audience will get their first chance to vote and have their say. Ultimately, just one singer will be elected and crowned The Voice UK champion and will win a recording contract with Universal Music. Just like in a real election (except with the recording contract!). Amazing, right? Yes it is!
#TheVoiceUK