The best of the Edinburgh Festivals 2015
One city, thousands of performers, and one extraordinary month. Each August the BBC brings you the best of the Edinburgh Festivals across TV, radio and online.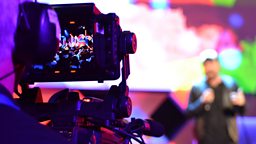 The BBC's own festival venue offers BBC shows, family fun, exclusive highlights and live performance from some of the best acts the Festivals have to offer.
You can come and enjoy the Festivals for free with the BBC. Get tickets now on the Shows and Tours website.
Whether you love music, comedy, theatre, dance or literature, we'll help you discover the most exciting performances and events from across the Festivals, with over 240 hours of broadcasting across BBC television and radio and more than 100 free shows at the BBC's festival venue at Potterrow.
And if you're at home you can listen, watch and enjoy a wealth of Edinburgh highlights On TV & Radio and online. There's so much going on across the month, make sure you don't miss anything by following us on Twitter @BBCEdFest, and liking BBC at the Edinburgh Festivals Facebook page.
Everything you need to know about the BBC's festival venue in the heart of the Edinburgh Festivals