The Showstopper
Every Monday to Thursday night, we like to finish Drivetime in a special way to get you in the mood for one of the marvellous music programmes that follow us.
There's Paul Jones' Blues show on Monday, Jamie Cullum's Jazz on Tuesday, Mark Radcliffe's Folk show on Wednesday, and Bob Harris Country on Thursday.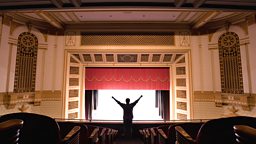 We'd like your suggestions for a Showstopper to finish the show that reflects the following programme, and why you'd like us to play it.
Email simonmayo@bbc.co.uk and we could be ending an edition of Drivetime with your chosen song.