How could virtual reality change our lives in 2017?
2017 has been called the 'Year of Virtual Reality,' but what does that actually mean for our everyday lives? 5 live takes a closer look at everything virtual reality (VR) - from how it could help people with disabilities to training surgeons in warzones.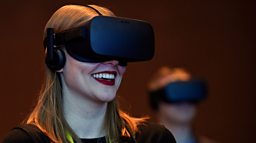 Transforming the military
Virtual Reality is being used by the military to replicate conditions of real world combat to help train recruits.
Professor Bob Stone of the University of Birmingham says that VR "costs about 90% less" and is "safer" than current training systems.
Bomb disposal simulation is one scenario that has been adopted by forces:
"We've been developing a simulator that enables the squadrons that go out and drive this [bomb disposal] vehicle, and the very complex robot arm that comes with it, to perform their duties safely and efficiently."
The military are also able to use VR to train medics, drone and fighter pilots and also super impose virtual maps for tactical purposes onto ordinary tables.
Learning to walk again
17-year-old Shannon Mackey was about to have her last radiotherapy session to remove a brain tumour when she suffered a stroke, leaving her wheelchair-bound and unable to use the left side of her body.
In addition to traditional physiotherapy sessions, Shannon has been attending virtual reality sessions at the charity-run Brain and Spinal Injury Centre (BASIC).
Now 19, Shannon has regained motion in her arms and is once again able to walk unaided.
"[Virtual Reality sessions] have helped so much", she said. "If I didn't come here I don't think I'd be where I am today."
Looking into the past
The University of Birmingham are developing "Heritage Virtual Reality" to allow users to bring the past back to life.
Professor Bob Stone told 5 live: "We think that Virtual Heritage is one of the untapped areas for the future of VR."
"We can use this [VR] as a focus for our research and involve school children and members of the public."
One such project will show children in the UK and USA what Plymouth looked like in 1620 when the Mayflower set sail to take the first 'Pilgrims' to America.
More like this
From the sights of Rome to Planet Earth II - try out some of the BBC's Virtual Reality projects so far.

As digital continues to transform the media landscape, we're exploring the role the BBC should play in this emerging medium.

As virtual reality reaches our homes, will it lead us to become more disconnected, or could it actually improve our lives?