Jeffrey Bernard - the lights went out all over Soho….
Jeffrey Bernard, immortalised in Keith Waterhouse's Jeffrey Bernard is Unwell, was the embodiment of the dying smoke tinged, louche, eccentric days of the old Soho that has now, for better or worse, been almost entirely replaced with pizza chains and juice bars.
Bernard's nights out at the Coach and Horses with London's grumpiest landlord, Norman Balon, on Greek Street, after-hours carousing in he Groucho, the Colony Rooms and the French House with writers and artists detailed in his Spectator column allowed us to live a hedonistic existence without the hangover.
He'd have despised the iPhone obsessed 'just a sparkling water at my desk' school of today's journalists. He was the writer everyone wanted to be when they were 20 and then secretly relieved they weren't at 40. So here's some unforgettable facts about the remarkable Jeffrey Bernard. We shall not see his like again.
1. He was a very sensitive soul and couldn't bear having to sing solos as a choirboy, and the "humiliation" put him off all choral music for decades.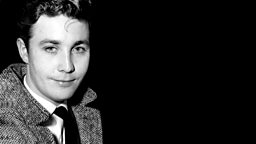 2. An inveterate smoker, he began as a child. "I'd come down to the drawing room in my little dressing room, after my bath, doing my Christopher Robin act having been five minutes before up in my nursery chain-smoking Woodbines."
3. Famously rude, he climbed up a ladder to the first floor of a house to shout abuse at the host of a cocktail party through the window
4. He was searingly honest. "At 12 I wanted to be a marine engineer, at 16 I wanted to go to bed with every woman in the world. And open the batting for England."
5. He knew an astonishing range of characters. Dylan Thomas, Marlene Dietrich, Tony Hancock, Francis Bacon, Graham Greene, Handbag Johnnie (a local bag thief), Lester Piggott and John Hurt, who plays his friend in Radio 4's adaptation of Jeffrey Bernard is Unwell.
6. He once borrowed someone's phone when he was being ignored at a bar, rang the pub and shouted "Any chance of getting a f****** drink?"
7. On his love affair with Soho: "Writers, painters, poets, amateur philosophers, and people talking about sex, which I'd never heard people discussing before. I sat there enraptured. There was no authority. That's the thing I've wanted to escape from all my life, authority."
8. He began drinking vodka, lime and soda in an effort to decrease his drinking, then abandoned the lime because it was bad for his diabetes.