University - Is It For You?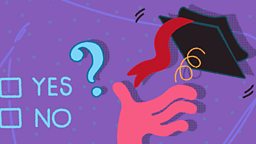 Thinking of going to university? Good for you. But it's a big financial commitment so it's important to work out whether uni is a good investment for you.
While some jobs require a degree, there are plenty that don't
Why should I go?
Going to uni can make you more attractive to employers in many industries, and you'll have loads of new experiences. You'll get to study your favourite subjects in more depth, and if you study away from home you'll find out what independent adult life is like. But uni isn't for everyone. It can be expensive and stressful.
What should I study?
Doing any degree shows employers that you're smart and motivated - important skills for any job. The main thing is to study something you want to learn more about, which ideally gives you skills that will be transferrable to a job you'd want to do later on. Talk to your teachers. They'll advise you on which university subjects match your skills and abilities - and which ones don't.
Can I afford it?
At the moment, average student debt can be as high as £53,000. You will get a student loan but tuition fees, rent, food and nights out all add up. Many students have to work part-time to cover their costs.
For most school leavers in Scotland, university fees will be funded by SAAS.
What is student life like?
You're expected to study hard, but uni is also fun. The social scene is buzzing around most unis and you'll make new friends and try new things. It can be hard being away from friends and family though, and money will be tight.
Can I get a good job without a degree?
While some jobs require a degree, there are plenty that don't. However, you are likely to start on a lower wage without a degree.
Distance learning is a good way to get a degree and avoid debt as you can have a full-time job and study in the evenings. This is hard work though - it can be quite lonely and the study is demanding on top of a working day.
From freshers' flu to fancy dress overload...
Becoming a student can be a strain on the bank balance, so make sure you know what to expect
if you've done better or worse than expected in your A Levels, you have options
BBC Advice factfiles are here to help young people with a broad range of issues. They're based on advice from medical professionals, government bodies, charities and other relevant groups. Follow the links for more advice from these organisations. The BBC is not responsible for the content of external websites.
This page was last updated on 22 June 2017.