Boys and their toys: My afternoon with China's bling young Super Car lovers
"I've got the Lamborghini, two Lamborghinis actually. I got two Ferraris. I got the R8 – the Audi R8. The Maserati. That's it. Oh, and I got the Bentley. That's it."
It was the first time I'd ever met someone who couldn't remember how many cars they had – let alone how many super cars (writes Anita Rani).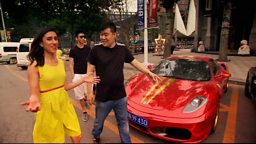 I was sitting in an uber-bling Beijing bar with Jeff Sun and his friends. Jeff is just 28, and yet he owns a fleet of cars which I could only dream of.
As he and his friends reeled off the list of their Lamborghinis, Bentleys and Ferraris, I couldn't help ogling. One of them was even waiting for his Mclaren MP4 to arrive – the first to be imported into the county. I wasn't expecting this in Communist China.
But what impressed me the most was how young these guys were. Jeff and his mates were all in their 20s or 30s.
These boys are members of China's new generation of super-rich: young, confident, and happy to flaunt their wealth.
Many of the super-rich had, or rather (in many cases) their parents had, made vast amounts of cash in the last decade through property development and the huge boom in property prices.
In 1998 the Chinese government decided to phase out welfare housing and any new properties built were to be acquired privately. Housing prices shot up and those building homes were happily counting the cash. There are now believed to be nearly 3 million dollar millionaires in China.
For the super-rich, cars are an important symbol of status and success. Even though China is still poorer per head than Costa Rica or Jamaica, it's one of the fastest growing markets for brands like Bentley, Ferrari and Lamborghini. In 2011 more Rolls Royce were bought in China than anywhere else, despite the fact the market is in its infancy and import duties make the cars much more expensive than in the west. China's supercar owners are on average 10-15 years younger than in the west.
In 2009 Jeff and his mates formed the Beijing-based China Supercar Club, bringing together luxury car lovers across the city for races, community days and social events in their exclusive members-only bar in downtown Beijing.
Membership is exclusive. With a wry smile they told me that you have to have at least a Porsche 911 (costing £71,000 at the very minimum in the UK) to be considered for it.
The club has been so successful that it's expanded all over the country, with hundreds of members.
But there is one down side. If you were wondering what the insurance was like for these young drivers, Jeff told me that it costs him £40,000 a year – and that's for just one of his 6 – oh no, wait – 7 supercars.
Justin visited a Chinese village where residents live in caves and a donkey provides the only means of transport.