BBC Introducing radio shows and downloads
Find your nearest local BBC Introducing show, read up on our national shows and get hold of the latest downloads and podcasts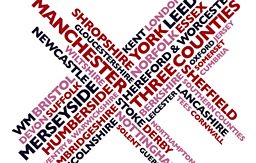 Every week over 30 local BBC Introducing shows all over the UK play music they have discovered through the BBC Introducing Uploader.
Our family of local shows across the UK are at the frontline of discovering and playing new artists from their area - and it could include you.
But it doesn't end there. Our local shows also recommend the best tunes from their area to specialist and daytime DJs on Radio 1, 1Xtra, 6 Music and Asian Network. That means, if you're the cream of the crop, your music could be heard by a nationwide audience. It all starts by signing up and uploading your best tracks.
Our network of local BBC Introducing shows
These are the local shows that your music gets sent to. By signing into the Introducing Uploader and letting us know your postcode, we can send your music to your closest BBC Introducing show.
Every BBC Local Radio station across England and the Channel Islands broadcasts a BBC Introducing programme from 8pm on Saturday evenings. All other show times are indicated below.
Regional and national shows:
Across The Line on BBC Radio Ulster (Mondays, 8pm)
BBC Introducing in the East Midlands (BBC Derby, BBC Leicester, BBC Lincolnshire and BBC Nottingham)
Vic Galloway on BBC Radio Scotland (Mondays, 8pm)
BBC Introducing: The South (BBC Solent, BBC Sussex, BBC Surrey)
Bethan Elfyn on BBC Radio Wales (Saturdays, 7pm)
Adam Walton on BBC Radio Wales (Saturdays, 10pm)
BBC Introducing in the West (BBC Radio Bristol, BBC Gloucestershire, BBC Wiltshire and BBC Somerset)
Local Shows:
BBC Introducing in Beds, Herts and Bucks
BBC Introducing in Cambridgeshire
BBC Introducing in Coventry and Warwickshire
BBC Introducing in Guernsey (Last Saturday of every month)
BBC Introducing in Hereford & Worcester
BBC Introducing on Radio Humberside
BBC Introducing in London (Gary Crowley)
BBC Introducing in Northampton
BBC Tees Introducing in Teesside, County Durham and North Yorkshire
BBC Introducing in the West Midlands
BBC Introducing in West Yorkshire
National BBC Introducing shows