Writing Austen - Part One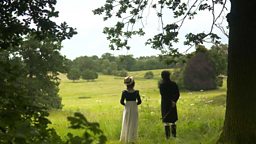 Series Producer and Writer Peter Eryl Lloyd gives an account of the writing challenges behind Doctors' special two parter: 'Austenland'
April '13
We're often asked when we're going to do another themed week, so after a number of successful forays in the past (notably 'Shakespeare Week' in 2012); back in January, the editorial staff were kicking round ideas for the next big thing. Someone mentioned Chaucer. My heart sank. It would be a challenge, I suppose – but that's been done, and very successfully, elsewhere. But then someone mentioned that 2013 was the 200th anniversary of the publication of Pride and Prejudice and that there was going to be a year-long celebration of Jane Austen's work. Perfect. Even better, I did Austen at school (A Level English: Mrs Franklin, I thank you!) and university, so I knew the books well and would feel far more confident in Regency England than medieval Kent…
As ever, it's really down to the writers to come up with enough good ideas that we could fold together into some kind of cohesive whole. I was concerned that we'd get a tonne of riffs on the Elizabeth/Darcy romance and nothing else; and we were already planning a story along those lines for Dr Tyler. But they didn't let us down – indeed, there were so many great ideas that I could have easily commissioned two weeks (but had to be restrained). So we have Emma on a council estate, a gay Persuasion, Northanger in a bungalow and a rather different take on Charlotte Lucas' fate. Storyliner Loretta Preece was immediately on the phone: 'Where are the bonnets? You have to do bonnets!" True, these stories were all contemporary versions and to non Austen fans, they'd simply be strong stories of the day. There is some mention of Austen that week of course; an exhibition in Letherbridge and a reading challenge at the surgery, but still … no bonnets. But how the hell would we do that?
We could be accused of jumping the shark at Doctors. I like to think that we sometimes swim underneath it. Certainly we've taken a lot of risks, including the highly controversial episode 'The Living Gaylights'. But with two hundred odd episodes per annum, and thirteen years on air, we've pretty much earned the right to try something a little different every now and then.
But how to do bonnets? And frocks? And a country house? And Mr Darcy for goodnessake? Without telling anyone, I spent a couple of weeks kicking ideas around, went to a National Trust property, revisited Colin Firth's Darcy and something started to take shape. I wrote a paragraph:
A young Janeite cannot cope with the harsh realities of modern life, so creates her own world: Austenland. There she can flirt with Darcy, reject Mr Collins and be scolded by Mrs Bennet. Sex and violence are unheard of; romance, comedy and manners prevail.
Our lead actors would play all the Austen characters – an opportunity for them to spread their creative wings and in some cases, provide an interesting counterpoint to their regular roles. We'd try to give it as much production value as we could on our budget and maybe even get a little of that rare thing: publicity. But over all this, it would have to be a story that worked, and kick off our Austen week with something of a polite bang.
The writing process was hard going. This wasn't a version of Pride and Prejudice; it had elements, but there were also scenes from the other novels and the story itself was unique. Of course I wanted to feature some of the famous set pieces (Mr Collins' proposal, Lady Catherine's confrontation and from Emma, the Box Hill incident) but creating a coherent narrative out of these was tricky. To compound things, I'd madly vowed to use ninety per cent of Austen's own dialogue throughout. I spent a good few evenings and weekends with my head in the novels, trying to remember exchanges, attempting to include sections from all the novels (even Love and Friendship) without the story being turned into some dreadful compendium of 'moments'. I'm afraid Sense and Sensibility and Lady Susan didn't make it, and blink and you'll miss Mansfield Park, but since these were visited later in the week, I decided not to be so ridiculously slavish. And anyway, who's going to be bothered? I could hear my script editor Grainne in my ear: 'Yes, but what's the story? And why should we care?'
On top of that was the timing. Austen characters speak slowly and with some consideration. They are designed to be read, not heard. The word order, though beautiful, can be odd and difficult to say. Even the great Andrew Davies took some liberties, and trying to dramatise scenes in my more modest way, I could see how really tricky this was going to be. But Miss Bates must be boring, Lady Catherine must be imperious; it is who they are. My first draft was an oddity. The page and scene count were worryingly short, but the word count was huge and I timed it at thirty six minutes without accounting for sweeping vistas of country houses in an English summer. Not there yet then…