Porn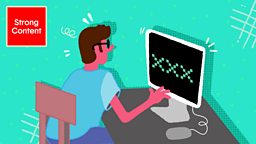 The porn industry is a multi-billion pound industry. But do you know what it really is? Or how you feel about it?
Porn is fantasy. Separate real life from porn - they are not the same
What is it?
Porn is any material (words, sounds, pictures) designed to be sexually arousing. Anatomy pictures may be sexually explicit, but not intended to be arousing. That's the difference.
How big is the porn industry?
Almost all adults have seen some type of pornographic material by choice or accident. Since the arrival of the internet, pornography is far more readily available and less regulated.
Around 25 percent of all internet searches are for pornographic content, and on average almost 30,000 people are looking at porn at any given second.
Shockingly, an investigation by the London School of Economics found that 90 percent of youngsters between eight and 16 have accessed porn online, many without meaning to find it, and most while doing their homework.
I believe in freedom of speech and expression. And sex is natural. Where's the harm?
Sex is natural, and banning porn could make talking about sex even more taboo. But pornography is very powerful.
Studies have shown that it changes how we feel about ourselves and about sex. It's easy to feel inadequate: normal bodies are hairy and wobbly. Not super tanned, perfectly toned and always up for it.
It can also influence behaviour. Many porn images show girls in submissive or victimised roles. For example, they may show women appearing to be enjoying rape by a stranger. In reality no woman wants this to happen, but porn gives the impression that they do. Not all porn users hurt others, but many rapists state the porn was a trigger for their actions.
Sex has consequences. STIs. Broken hearts. Love - to name but three. Porn takes sex out of context and makes it a purely physical act. Condoms are irrelevant and everyone smiles.
Porn can be upsetting: what turns one person on can frighten the hell out of another.
This can all be harmful, both to girls and boys. Especially when we're young and still figuring out how we feel about sex for ourselves. Once we've seen something, it's always with us. We can't choose to erase it.
The women in porn choose to do it. Where's the harm?
This is a common argument used to support the porn industry but when it comes to the question of choice, the real issue is - what are the other options for those working in the sex industry? The sad answer is usually not a lot.
The porn industry is well known for not being the nicest industry to work in. Adult actors can be treated very badly by their bosses - coerced, threatened and even beaten into performing acts they'd rather not. Porn actors can be at risk of getting STIs. As long as there is a demand for porn, this will continue to happen.
What does the law say?
Porn is illegal if it is 'judged to have a tendency to deprave and corrupt the intended audience'.
Possession or downloading of child pornography is a serious criminal offence.
Most newsagents will not sell top shelf magazines to the under 18s. Videos should be restricted to the age guidance certificate.
Encouraging someone under 16 to look at pornography is sexual abuse.
it is illegal and a serious criminal offence to take, hold or share "indecent" photos of anyone under the age of 18. Have a look at our Sexting page for more info.
Is all porn bad, then?
Ask yourself: Does it do any good? Do we need it? Why?
It is up to everyone to decide for themselves. You don't have to look at porn. You should certainly never be tricked or coerced into looking at it.
If you do decide to use porn, remember:
Porn is fantasy. Separate out truth (real people) from fantasy (actors). They are not the same.
If it makes you feel weird inside, unhappy, confused or upset - then don't watch it. If it's starting to influence how you feel about sex, or how you behave in any way - then stop.
Most importantly, respect other people's right to choose. Different people have different personal boundaries. Also, keep porn private and safe. Younger siblings always tend to know where our hiding places are.
BBC Advice factfiles are here to help young people with a broad range of issues. They're based on advice from medical professionals, government bodies, charities and other relevant groups. Follow the links for more advice from these organisations.