BBC Fresh Profile: Shanshan Chen
Filmmaker Shanshan Chen explains her approach to documentary making.
Shanshan became friends with contributor Jia Ni after making her documentary Day in a Life, which is part of a series on women in traditionally male job roles.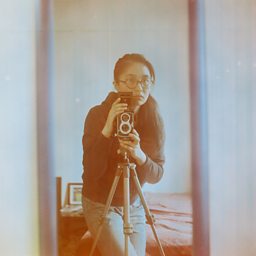 Why did you pick this subject for Fresh?
Jia Ni is an inspirational character who defies female stereotypes. She is also a great example of the under-represented young, educated Chinese community in the UK.
What motivated you to make this film?
This video is part of the Women in Men's Work series for Thomson Reuters Foundation, and I was given freedom and support from my editors and supervisors for working on this story.
I got to know Jia Ni through a common friend, and was impressed by her openness and optimism on our first phone call. The filmmaking process was very delightful despite all the difficulties, and we are now friends.
What camera did you use to shoot your film?
Canon 5D Mk II.
Who/what inspires you?
Many great artists and scholars. Chris Marker, Patrick Keiller, Wim Wenders, Alex Katz... and Gideon Koppel, my tutor in documentary filmmaking.
What are your plans for the future?
Keep making videos, telling interesting stories, and experimenting with different media.
What is the most important thing you have learned so far?
Nobody can do it all - you need to give 100% trust to your colleagues, and value their talents and specialities.