Spanish dancer by Lenci
This figure of a Spanish dancer was bought from a charity shop for £29.95 by a gentleman who recognised that it was by Lenci, having seen similar figures on Antiques Roadshow.
The dancer was designed by Helen Konig Scavini for Lenci in the 1930s and is a fantastic example of her highly sought-after work. This was a fantastic purchase as it's worth between £2,500 and £3,000.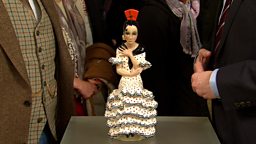 Did you know? The term 'Art Deco' is derived from the 'Exposition Internationale des Arts Décoratifs et Industriels Modernes', an exhibition held in Paris in 1925.
Get the app that lets you join in by guessing the values of items featured in the show.