Star Trek at 50: Lieutenant Uhura teleports into London
5 October 2016
When the original Star Trek launched 50 years ago, Nichelle Nichols' performance as Lieutenant Uhura - one of the first black series regulars on US television in a non-subordinate role - was one of many factors that made the series stand out and resonate with fans around the world. The series debuted on BBC One just eight days ahead of the Apollo 11 moon landings, three years after its US launch. ALASTAIR MCKAY caught up with Nichols at BFI Southbank during a special Star Trek at 50 event, part of the BFI's Black Star season.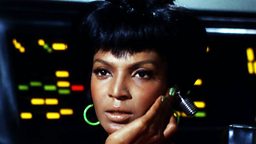 Nichelle Nichols as Lieutenant Uhura | Photo by CBS Photo Archive / Getty Images
As kisses go, it is neither romantic nor explicit. There are some who argue - among them, on occasion, William Shatner - that the lips never touched. Watching it now, the scene seems chaste, almost to the point of self-parody.
And yet, the clinch between Lieutenant Uhura and Captain Kirk in the 1968 in the Star Trek episode Plato's Stepchildren has become a historic moment in television, even though its claim to be the first interracial kiss on US network TV has been much disputed. (In fact, it may not even be the first interracial kiss by William Shatner on American television).
For Nichelle Nichols, who played Uhura, the kiss has taken on a life of its own, though the act itself was apparently unremarkable.
"It wasn't a big deal", she says, "because it was scripted. Other shows had similar things, but because it was us doing it, it became a big thing."
In the original script, Nichols recalls, the Vulcan Mr Spock was supposed to kiss Uhura. But, "Bill Shatner said, 'If anybody's gonna kiss Nichelle, it's gonna be me!' Oh hell, yeah! But you just have to see my family to know that it was not a big deal. It was not a big deal for me."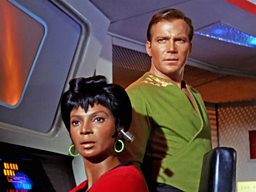 Nichols and William Shatner in the second Star Trek episode, Charlie X, aired September 15, 1966 | Photo by CBS via Getty Images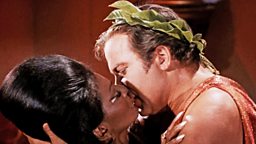 Nichols and Shatner in Star Trek episode Plato's Stepchildren, which aired during the third series in November 1968 | Photo by CBS via Getty Images
Nichols' family tree is entwined with slavery. Her grandfather, Samuel, was white, with red hair and green eyes (his father was a Welshman who made a fortune in the plantations); her grandmother, Lydia, was born to a family of ex-slaves and had Spanish, Moorish and African heritage. She had "chocolate brown skin and waist-length ebony hair."
Nichols was told when she auditioned for the Chicago Ballet Academy that "black people cannot dance the ballet"
When Nichols' grandparents got together, Samuel was disinherited, and severed all ties with his old family, starting again in a life "shaped by the forces of love, rather than convention", as Nichols put it in her 1994 autobiography, Beyond Uhura.
Nichols studied ballet as a child, only to be told when she auditioned for the Chicago Ballet Academy that "black people cannot dance the ballet". Nevertheless she was accepted, but branched out into Afro-Cuban dance, working under age in a supper club, where she was invited to Duke Ellington's table.
Two years later, Ellington invited her to choreograph a revue he was working on, which she did although she was two months pregnant at the time. "He wanted someone to do a dance," Nichols says, "a physical thing while the band was playing. He had three or four guys, and a girl. I was the girl. And it went over so big."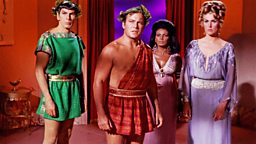 Leonard Nimoy, William Shatner, Nichelle Nichols and Majel Barrett (as Nurse Chapel) in Plato's Stepchildren | Photo by CBS via Getty Images
Nichols' acting career is inevitably entwined with Star Trek creator Gene Roddenberry. They first worked together in 1963, in an episode of The Lieutenant, in which Roddenberry used the Marines as a microcosm of society, exploring racism and other social issues.
A Wagon Train for the stars... I think you're gonna like it

Gene Roddenberry
Though Roddenberry was married, the two became a couple. The relationship remained a secret, and was over before Roddenberry's next project - 'a Wagon Train for the stars' - began. Nichols says he told her, "I'm working on something. I think you're gonna like it."
When Nichols auditioned for Star Trek, she was asked to read as Mr Spock, though Leonard Nimoy had already been cast.
By this time she had adopted what was known as a Euro-Afro hairdo - a short Afro with straight sideburns, coming to a point at the front. She also took a book with her to the audition, a treatise on Africa called Uhuru! (the Swahili word for freedom).
Roddenberry had mentioned to the network that he planned to "add a little colour to the bridge", but casting Nichols as a linguistics scholar, a citizen of the United States of Africa and a top graduate of Starfleet Academy was not without its problems. In the first series of Star Trek, Uhura's lines were often cut, and Nichols had a less secure contract than her co-stars, a situation which led her to consider quitting.
"I was flying to New York to do a musical that I was going to have a lead in," says Nichols. "I never got there." Nichols attended a civil rights event in Beverley Hills at which she was introduced to Dr Martin Luther King, who told her the role of Uhura was "the first non-stereotypical role on television... not a black role, and not a female role. You can't leave."
"He was my leader, my father. And he was a follower of the show! He was a big fan. He was a trekkie, Martin Luther King. I never forgave him for that!"
The importance of Uhura's unfussily pioneering presence on the bridge of the Enterprise was underlined when Nichols helped recruit female and minority astronauts to the Space Shuttle programme. In recent years, she uncovered another powerful fan: President Obama. "He's a trekker! There's nothing wrong with him! He could tell you a lot of stuff about Star Trek you wouldn't even know!"
The Southbank event was a curtain-raiser for BFI Black Star, which runs at UK venues and on BFI Player from 17 Oct until the end of the year.


Star Trek is shown on the CBS Action channel, weekdays at 6pm.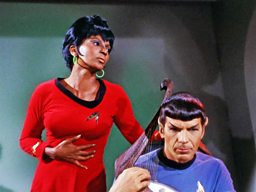 Nichols and Leonard Nimoy in the second Star Trek episode, Charlie X | Photo by CBS via Getty Images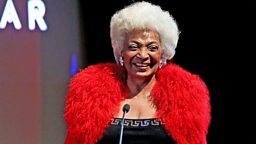 Nichelle Nichols at the BFI Southbank on 1 October 2016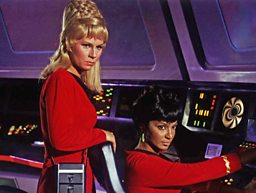 Grace Lee Whitney, as Yeoman Janice Rand, and Nichols at the controls of the Starship Enterprise in The Man Trap | Photo by CBS Photo Archive / Getty Images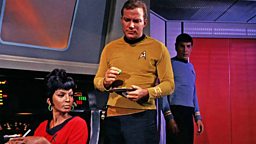 Nichelle Nichols as Lieutenant Uhura, William Shatner as Captain James T. Kirk and Leonard Nimoy as Mr Spock in The Man Trap, the premiere episode of Star Trek, which aired in the US on September 8, 1966 | Photo by CBS Photo Archive / Getty Images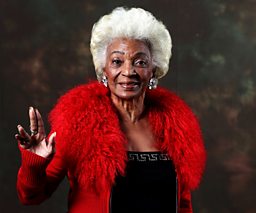 Nichols at the BFI Southbank, October 2016