I ♥ The Archers
What's so great about BBC Radio 4's daily drama? Why does it hook nearly five million people a week?
1. We grew up with it.
The characters have grown and changed as the listeners have. Ruth Archer coming to Ambridge as a defensive work experience girl then marrying into the Brookfield Archer clan; Ed Grundy becoming a responsible husband and father; Elizabeth Archer's string of unsuitable boyfriends throughout her adolescence (and beyond)…we've all grown up together. We're there for the births, the marriages, the funerals.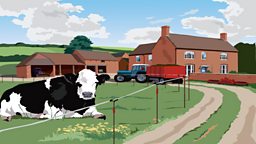 2. British eccentricity
We can't think of another soap opera that would happily devote half an episode to a discussion about slurry and milking parlours, have a plethora of silent characters, one of whom, when she finally speaks, is revealed as one of the world's greatest actresses, and turkey fortune telling.
3. Memorable moments
Whether you can remember where you were when Grace died, the armed robbery at the shop or when Nigel took his header off the Lower Loxley roof, there'll be an Archers moment that you can pin to a particular time in your life.
4. Continuity
Whatever else is going on in the world, or in our lives, there'll always be the single wicket competition, Lynda's Christmas show, harvest and the flower and produce show in Ambridge. And somebody somewhere will be putting the kettle on.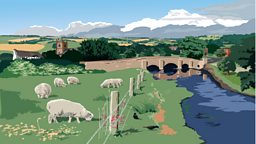 5. Innuendo
The Archers sometimes has its tongue so firmly wedged in its cheek it appears to be sucking a gobstopper, and we love it for that.
The fast and furious 'tweetalong' on a Sunday morning has all added to the very British nudge-nudge wink-wink quota. Whether it's Jolene the busty barmaid in her tight tops walking in on hunky Harrison Burns in the shower or Chris Carter the blacksmith describing how hot things get under his leather apron, The Archers revels in its own faux-innocence and allows us to enjoy it as a drama….and occasionally, as a comedy.
6. It's wonderfully welcoming
You can happily miss it for a month and catch up after twelve minutes.
7. It links us to our rural roots
If you're growing up in Dagenham you'll still know it's lambing season because you'll hear David struggling with tiredness in the lambing shed. You'll know what a forage harvester is and when leeks need pulling.
8. Class
Narrowly observed class observation on The Archers is akin to that in Trollope or E F Benson's Mapp & Lucia novels. Susan becoming an in-law to Jennifer, the feudal relationship between the Archers and the Grundys, all reveal more about the English class system than any sociological document ever could.
9. Multi-faceted characters
Sure there's the odd pantomime baddy like Hazel Woolley whose appearances are virtually preceded by a crack of thunder, but in general the characters are well-rounded and beautifully drawn. Tony Archer, the gloomy organic farmer with mother issues who is overjoyed to be getting to know his estranged grandson, Emma Grundy who is emerging from a spiteful and spoilt adolescence into her new role as a mature and thoughtful young mother and Lilian Bellamy, the wise cracking, chain-smoking boozy businesswoman whose heart has been broken more times than Jill Archer's home-made lemon drizzle cake.
10. It punctuates our day
If it wasn't for the Archers omnibus no-one in Britain would know when to put their roast potatoes on for Sunday lunch. Fact.
Head down to Ambridge...
What's so great about BBC Radio 4's daily drama? Why does it hook nearly five million people a week?

Comment on the latest exploits of the residents of Ambridge.

Neer miss another episode of the world's longest running soap opera.