Radio 2 Comedy Week
From 9th-13th June 2014, Radio 2 is broadcasting a week of comedy showcases featuring a number of new and exciting one-off comedy shows from established artists, as well as up-coming and emerging new talent.
Read on for some of the highlights of our Comedy Week.
New Comedy Award 2014
On Thursday 12th June 2014, Patrick Kielty joins Steve Wright to launch the 2014 BBC Radio New Comedy Award.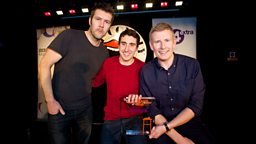 Patrick Kielty, Rhod Gilbert and New Comedy Award 2013 winner Steve Budega
The BBC Radio New Comedy Award is a nationwide talent search to find the best in new stand-up comedy talent.
Since 2011, BBC Radio 2 and BBC Radio Comedy have put the spotlight on seeking out the best new stand-up comedy talent with a new format and, for the first time, including audience interactivity.
Listen to Steve on Thursday for more info