Brass Day on BBC Radio Wales
BBC Radio Wales proudly celebrates the nation's long heritage of brass music, from its beginnings to the present day. The day climaxes with a special concert featuring the Tredegar Town Band, live from the Royal Welsh College of Music and Drama in Cardiff – find out more about tickets below.
BBC Radio Wales Brass Day takes place on Wednesday, December 18, and Radio Wales' Beverley Humphreys dropped by Wynne Evans' Friday afternoon show on December 6, to announce the plans.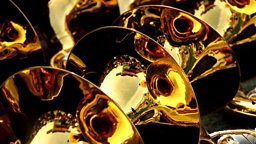 A celebration of Brass in Wales
Beverley said: "Radio Wales Brass Day will see programmes from Good Morning Wales through to Radio Wales Sport in the evening shining a high profile spotlight on Welsh banding success with interviews, features and recordings throughout the day.
"In preparation, many of our presenters, including Jason Mohammad, Wynne Evans, Eleri Siôn, Derek Brockway, Roy Noble and Dewi Griffiths have promised they'll do their best to learn how to get some musical notes from various brass instruments! And there will be brass versions of the Radio Wales jingles to give the station a special sound for Christmas."
Other highlights include a live outside broadcast of the Jason Mohammad programme from Cyfarthfa Castle in Merthyr Tydfil (on-air from 10 AM), the home of an extensive collection of brass instruments.
Nicola Heywood Thomas and her guests will tell the story of the brass band tradition in The Radio Wales Arts Show, including contributions from The Cory Band from the Rhondda, The Beaumaris Band from Anglesey and the Ysgol Bontnewydd Brass Band from Gwynedd, champions in the beginners' category at the National Youth Brass Band Championship of Great Britain this year. You'll be able to hear the programme at 6.30 PM, or download it to keep afterwards as a free podcast.
In All Things Considered Roy Jenkins will be hearing about the meaning and motivation behind the music of the Salvation Army band.
Live with the Tredegar Town Band
At 9 PM Beverley Humphreys presents our grand finale to Brass Day - a special concert featuring the Tredegar Town Band at the Royal Welsh College of Music and Drama in Cardiff (concert starts 7.30 PM, live on BBC Radio Wales from 9 PM).
The performance will mark the Tredegar band's success recently in the British Open Brass Band Championship, the oldest and most prestigious brass band competition in the world.
Tickets for the concert are free - telephone 03700 101 051 for bookings and further details (standard geographic charges from landlines and mobiles will apply). The concert begins at 7.30 PM, with Radio Wales broadcasting live from 9 - 10 PM.
In its 137 year history, Tredegar Town Band has enjoyed a remarkable musical journey in reaching its position as the undisputed number 2 ranked brass band in the world today. To hear what makes the Tredegar Town Band stand apart from the rest, tune in at 9PM or join us live at the event.
Radio Wales Editor, Steve Austins, said: "There's an amazing brass band tradition in Wales and I'm proud that BBC Radio Wales will be celebrating their heritage and achievements with a special day of programmes. I'm looking forward to the performance by the Tredegar Town Band - I'm sure it will be a special treat for all our listeners."